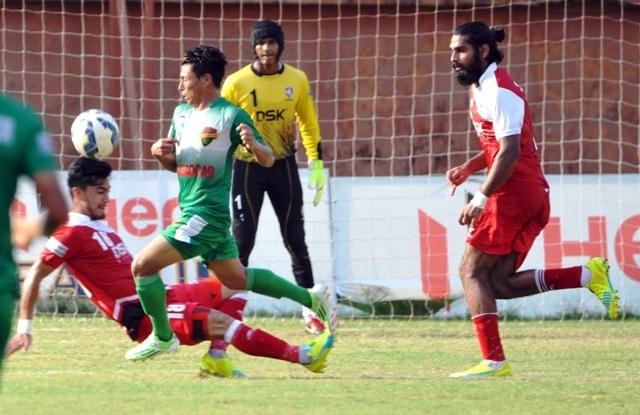 IMAGE: DSK Shivajians and Salgaocar FC players in action. Photograph: AIFF Media.
Striker Aser Perrick Dipanda muffed up a second half penalty, forcing DSK Shivajians FC to share points with Salgaocar FC after a 1-1 draw in an I-League clash at Tilak Maidan, in Goa, on Friday.
Baljit Sahni (25th minute) and Darryl Duffy (30th minute) had struck one goal each for their team in the first half but Shivajians were unfortunate that Perrick could not convert a penalty in the second half.
The result propelled DSK Shivajians to the sixth spot in the I-League table with 13 points, while Salgaocar FC, also on 13 points, leaped to the fifth spot, ahead on head-to-head.
The Shivajians started the match on the front foot as they knocked the ball around the park successfully in the opening exchanges. The first real chance for the Pune-based club came in the sixth minute when Juan Quero delivered a ball in the box from the left flank, but Baljit Sinha was unable to connect with a header in front of an empty goal.
Both the teams picked up the pace after that attack, however, it was the visitors who kept possession of the ball for long periods in the center of the pitch. It was not until the 22nd minute that there was another shot on goal.
In the 25th minute Baljit scored the opening goal of the match from six yards out after Haroon Amiri went past Gurjinder Singh to find the Baljit with a cut-in pass, handing Shivajians the lead.
The Goa-based club leveled the score within five minutes of going down through a Duffy strike, who got on the end of an exquisite passing move around the box to unleash a powerful shot past Subrata Paul in DSK Shivajians' goal.