Churchill Brothers Technical Director Subhash Bhowmick, who was not happy with the club management interfering with the team's affairs, has stepped down from his post.
He finally sent his resignation letter to the club boss Churchill Alemao on Tuesday.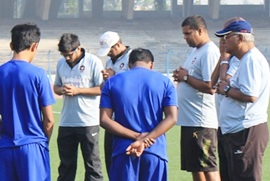 It is learnt that Bhowmick, who guided Churchill Brothers successfully to win the I-League crown for the second time, had alleged differences with Alemao during the I-League matches.
According to Bhowmick, Alemao interfered in the club affairs while making substitutions in the games, which led to his resignation.
The veteran coach, who is among the nominees for the best coach award this year organised by the Football Players Association of India (FPAI), is likely to join East Bengal or the newly promoted Mohammedan Sporting.
Bhowmick is the second coach whose contract is not renewed after Churchill Brothers won the I-League title.
Earlier, Serbian coach Zoran Djordjevic, who guided Churchill Brothers to their maiden I-League title in 2009, did not get his contract extended.
Photograph: AIFF Media