Second-half goals from Sandesh Gadkari and Henry Ezeh steered Air India to a comfortable 2-0 win against Pailan Arrows in the Round XI match of the I-League at the Balewadi Sports Complex, in Pune on Friday.
After an unimpressive first half, Air India picked up pace on the change of ends and fired two goals in a space of eight minutes to earn full points that helped the Mumbai side climb one place above to sixth with 19 points, one better that Pune FC. Pailan stay on 6 points from 11 matches.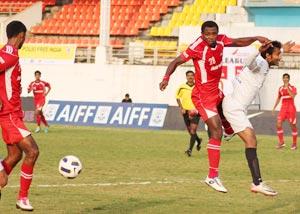 Air India slowly regrouped. First, Muhammed Shafi set himself up at the top of the box but his powerful grounder zipped wide of left post. And on the counter, Jibon moved up from left but Fenai wasn't equal to the occasion.
That gave Colin Abranches to get in from the left wing and his cross in the middle kissed Sandesh Gadkari's boots before landing into the post in the 62nd minute.
Abranches was at it again, but this time it was Ezeh Nna Henry who fired home the goal to give Santosh Kashyap's team the much needed respite considering that they had made a sedate start to the match.
Air India's Sanjay Gadkari was declared the Man-of-the-match.
East Bengal beat Chirag Kerala
Second half strikers from Penn Orji and Tolgay Ozbey helped Kingfisher East Bengal their seventh win of the season against the hosts Chirag United Kerala at the Jawaharlal Nehru International Stadium, Kochi.

The win takes the Red and Gold to 23 points from 11 matches while Chirag stay at the bottom of the table with one point from same number of matches. 

Both the teams started cautiously and employed defensive tactics. The first half saw few attempts to score. Though some clear chances were made, but the strikers' inability to hit the goal mouth, lead the score to remain at 0-0 at the lemon break. 

The Red and Gold went ahead six minutes into the second half, when on a corner from Raisangmi Vashum, Penn Orji made no mistake to put the ball in the goal post and giving his side the much desired lead. 

Buoyed by the first goal East Bengal totally controlled the game and enjoyed had majority of the ball possession in the second half. 

The match saw some last minute action, as with four minutes of added time. The man in form Tolgay Ozbey doubled the lead for Kolkata's side.

Penn Orji was handed the man of the match award.