Thierry Henry came to Mumbai and left his fans in a daze as he showed off that famed, magical footwork while he trained budding talent from the city.
While Arsenal fans saw their dreams come true, Rediff.com's Norma Godinho (an FC Barcelona fan) was also left spell-bound by 'The King'.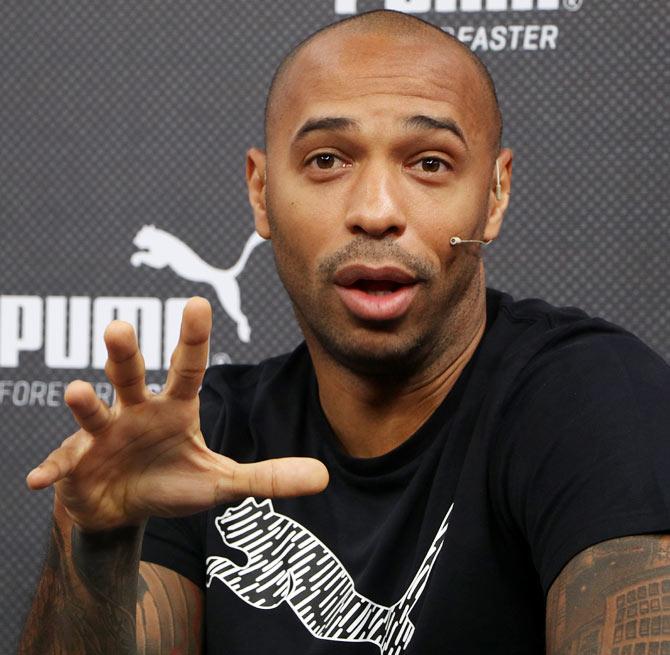 IMAGE: Thierry Henry in Mumbai on Wednesday, October 26, 2016. All photographs: Hitesh Harisinghani/Rediff.com
The King arrived, saw and conquered hearts in the city!
Arsenal legend Thierry Henry was in Mumbai for a day-long visit and it was a jam-packed affair at the National Sports Club of India in Worli, south Mumbai, as he left his fans mesmerised by glimpses of his magical footwork that made him a hero at Highbury and later at the Emirates Stadium in London.
3,000 fans descended at the venue to glimpse their hero in flesh and blood.
About 300 people had come to see King Henry through the Arsenal fan club in the city, most others made their way through passes given out at Puma outlets.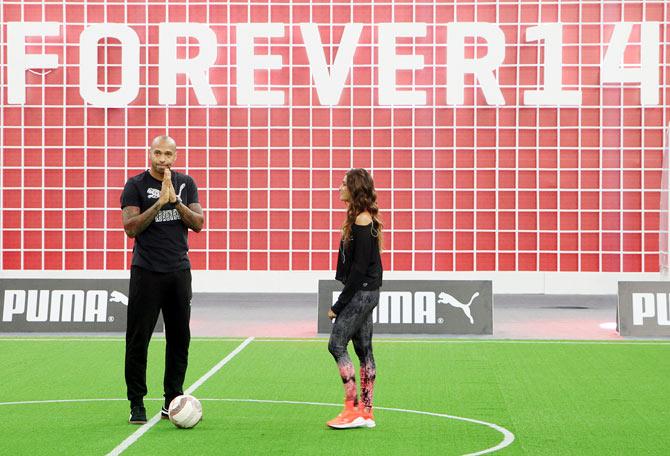 IMAGE: Henry acknowledges fans who couldn't get enough of the legend.
And as the 'Invincible' made his way to the venue, his name reverberated in the auditorium.
Even as he tried to speak through the microphone, his voice was drowned in screams of 'Thierry Henry! Thierry Henry!'
Before getting to the task at hand -- the 'coaching stint' with school children -- Henry thanked the fans for the overwhelming welcome and proceeded to speak about his footballing hero.
"Maradona will always be my hero. That 1986 World Cup changed it all for me. Watching Maradona on TV in that World Cup inspired me to take up the game," the Frenchman said, speaking of the great Argentine.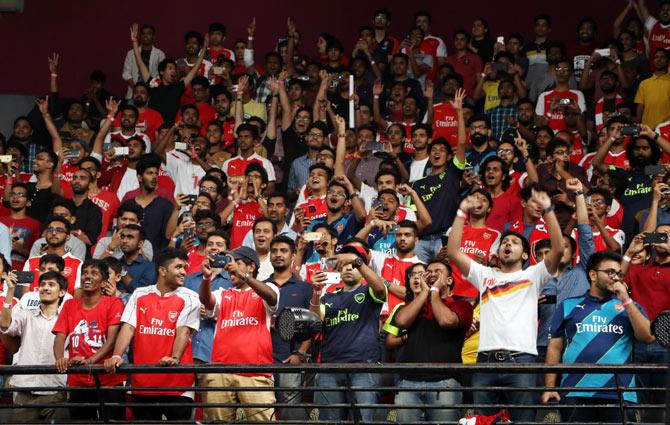 IMAGE: The auditorium at the NSCI was packed as Arsenal fans came to cheer their hero.
When asked what he would have been if not a professional footballer, the former FC Barcelona striker said: "I don't know what I would have done. I was lucky to know what I always wanted to do."
" Football was always my passion. From whenever I can remember, I have always wanted to be a footballer."
Then the five-time EPL Player of the Year got down to 'business' -- training with the kids, from the Arsenal Soccer School and the ISL Young Champs.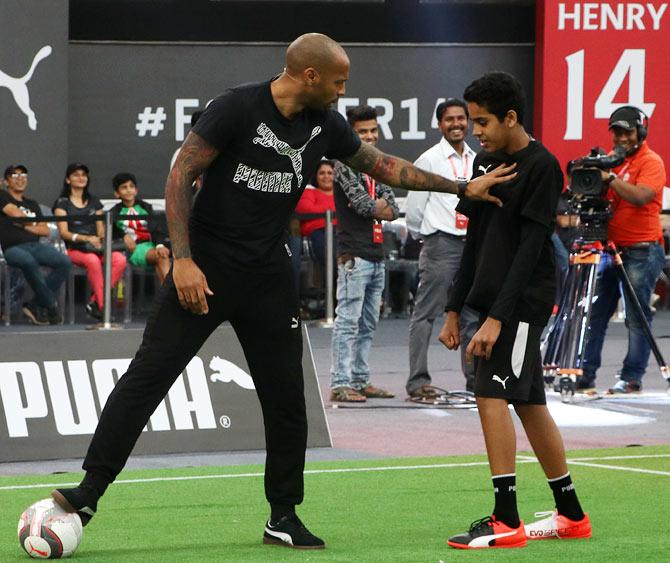 IMAGE: Henry tries to win the ball during the training session.
The Arsenal legend had the crowd wrapped in his spell whenever the ball was at his feet.
A little poke here and a back heel pass there and the fans wanted some more.
As he went about his job, chants of "Come on Henry! Come on Henry!" got louder.
At one point he looked up at the crowd and said something that can be etched on his grave someday: "I have nothing left to prove."
Reminding his fans of the reason for his Mumbai stopover, Henry added: "Cheer for these kids! I'm here for them."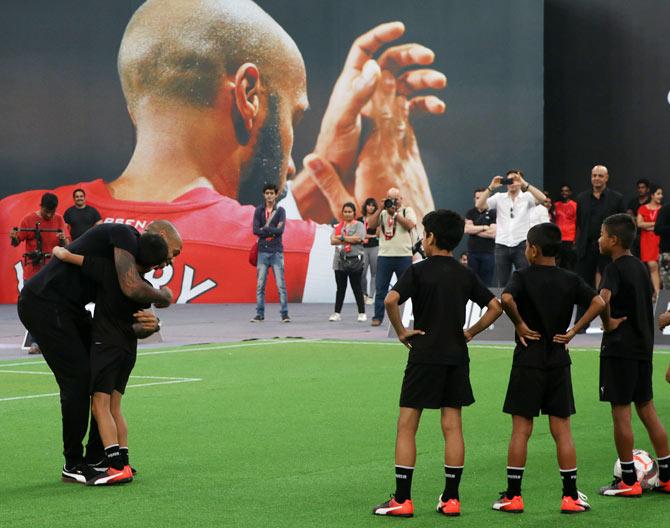 IMAGE: One lucky child gets a warm hug on impressing 'The King.'
Henry, now assistant coach of the Belgian national team, was clearly having a good time with the 30-odd chuldren chosen to train at the special event organised by Puma.
Henry taught the eager kids the nuances of one-touch football, beating defenders with deft passes.
Those who impressed the former Arsenal captain were applauded, others were patted, prodded and hugged as Henry perfected his role as coach.
Tarun Jha, who got football lessons from Henry, told Rediff.com, "I have been following Henry since I was 6 years old. I was so nervous when he picked me to train with him that my back became stiff. I thought I had a catch in my back. But I cooled off after some time and I paid attention to his coaching."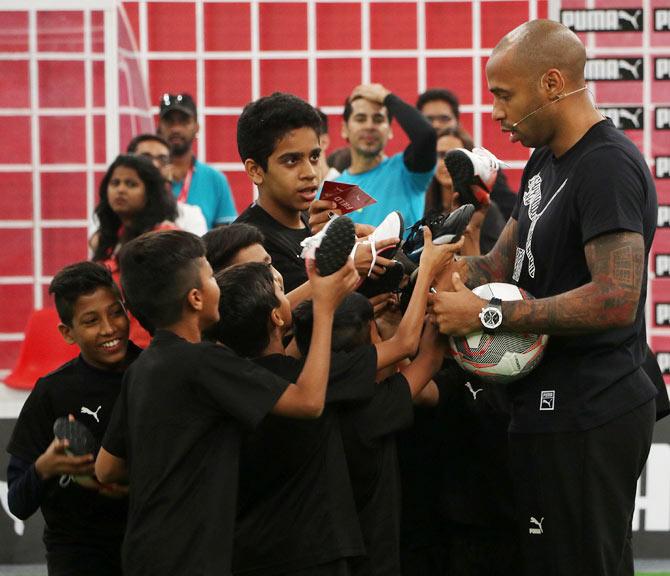 IMAGE: Henry obliges young fans with autographs.
"He taught us game play and passing and it was an exciting experience," the 15 year old from the Seven Square Academy, Mira Road, a township near Mumbai, said.
Abeer Jajodia, 14, who trains at the Arsenal Soccer School was pleased as punch to have trained with Henry.
"I couldn't believe he picked me. I was excited and nervous all at the same time," Abeer said.
Speaking to the media earlier in the evening, Henry, now a telly pundit, spoke of belief as an important tool to bring out the best in youngsters.