Bajrang unlikely to move court after mentor Yogeshwar's timely advise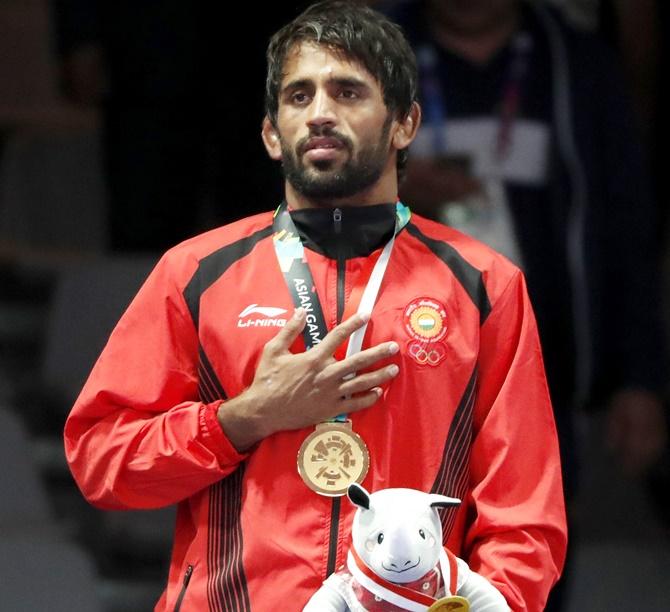 Star wrestler Bajrang Punia is likely to back down from his stance of going to court against Sports Ministry's decision to ignore him for the prestigious Rajiv Gandhi Khel Ratna award after his mentor Yogeshwar Dutt advised him to rather concentrate on his preparation for next month's World Championships.
Snubbed for the country's highest sporting honour, Bajrang on Thursday met Sports Minister Rajyavardhan Singh Rathore, who had assured him that his case will be considered.
The 24-year-old wrestler, who won gold at the Commonwealth Games and Asian Games, had said if he doesn't get a favourable reply from the Sports Minister, he will be forced to knock the doors of court to get justice.
But with the Sports Ministry unlikely bow down to his pressure, Yogeshwar said he has advised Bajrang to move forward and concentrate on his preparation for the World Championships.
"It was injustice to Bajrang as he deserved the Khel Ratna this year. We met the Sports Minister yesterday and he said he will talk to the selection committee. But I have advised Bajrang against going to the court as it will hamper his World Championship preparations," Yogeshwar told PTI.
Olympic medallist Yogeshwar accompanied Bajrang for Thursday's meeting with Rathore.
A source in the Sports Ministry too said that Rathore is unlikely to make a last minute addition to the list.
"The Minister met Bajrang and wanted to know his grievances. He explained to Bajrang why his name was not considered. Even though he has promised Bajrang to look into the matter, it is unlikely that any changes will be made," the source told PTI.
Hurt by the snub, Bajrang had threatened to move court as he feels he too deserved the award.
"I was supposed to meet the Minister today but suddenly we got a call last evening for the meeting. I asked the Minister about the reason for not considering me for the Khel Ratna. He said I didn't have enough points which is wrong. I have garnered more points than the two (Virat Kohli and Mirabai Chanu) who were nominated," Bajrang said.
"I have been wronged. I want justice. The Minister said he will look into the matter but there is hardly any time left for the award function. If I don't get a favourable reply by evening I will move court," he had added.
Besides gold medals at Gold Coast and Jakarta, Bajrang had won silver medals in the 2014 editions of the Commonwealth Games and Asian Games.
He also has a 2013 World Championship bronze medal to his credit. But it did not come into consideration as the points system for giving away the award was introduced only in 2014.
Besides, as per the terms of reference for the selection committee, it "may not mechanically recommend Rajiv Gandhi Khel Ratna to the recipient of the highest marks across disciplines."
"But in a particular sport discipline, the award will be recommended only for the recipient of the highest aggregate marks."
In a departure from tradition, the National Sports Awards will be given away on September 25 this year instead of August 29, the birth anniversary of Major Dhyan Chand, because of clash of dates with the Asian Games which ended earlier this month.
© Copyright 2022 PTI. All rights reserved. Republication or redistribution of PTI content, including by framing or similar means, is expressly prohibited without the prior written consent.