'I usually like to recreate something. I know, as everything in life, we are evolving. I'm a different person, different player today.'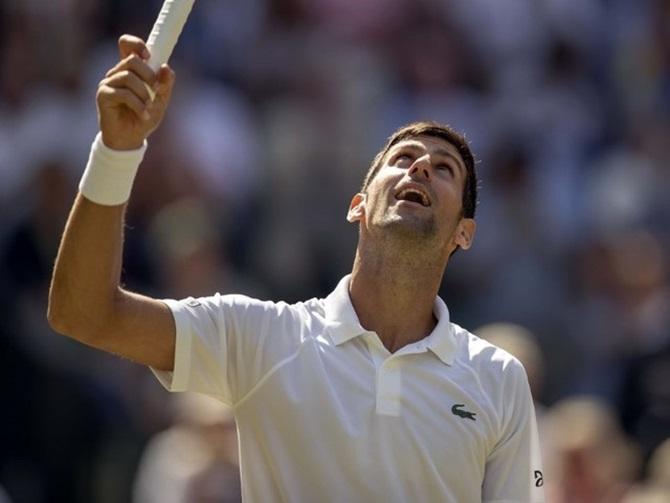 Novak Djokovic felt he was a different player to the Wimbledon winner of old but comparisons were inevitable on Wednesday as the Serb rolled into the semi-finals for the first time since 2015.
The former world number one and three-times champion played some sublime tennis, and showed plenty of fire in altercations with the umpire, as he swept past Japan's Kei Nishikori 6-3, 3-6, 6-2 ,6-2.
"I feel if I have to compare the game that I've played, the level of tennis that I've had those years and today, I think it's pretty close," he told reporters after two-and-half hours on a sunny Centre Court.
If there were obvious empty seats for the lunchtime encounter, with defending champion Roger Federer in action at the same time on Court One, the entertainment could not be faulted.
Djokovic looked in impressive form, particularly as he closed out the final set.
"It's kind of hard to copy anything, right? I don't like that," he said. "I usually like to recreate something. I know, as everything in life, we are evolving. I'm a different person, different player today."
That said, the 31-year-old liked where he found himself after a difficult 12 months and comeback from elbow surgery this year.
Only last month, after a French Open quarter-final defeat, Djokovic had raised doubts about even appearing on the grass of south-west London.
"I think with the performances I've had, I deserve to be in the semi-finals. I don't want to stop here. I hope I can get a chance to fight for a trophy," he said.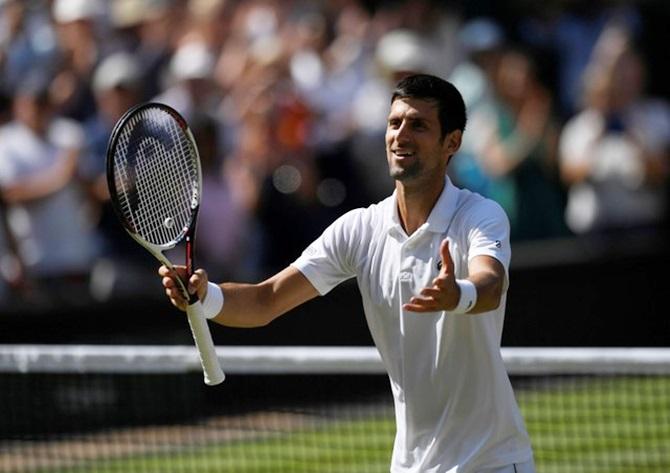 Djokovic is through to his eighth Wimbledon semi-final, an achievement bettered by only three players in the Open Era.
It will be the 32nd Grand Slam semi of his career and first since the 2016 U.S. Open but, given what has happened since his previous one, a special feeling nonetheless.
"Obviously it's different coming into semi-finals this year, taking in consideration 15 months behind, what everything that has happened, my results that were not up to the standard that I was doing before, that I was expected to play on," he said.
"In the same time, I'm trying to use the experience and memories that I had on being in final stages of Grand Slams, just take things very simple, day by day...not get ahead of myself too much."
Nishikori, who failed to take advantage of three break points early in the third set and lost his serve immediately afterwards, reckoned the Serb was timing his return to form just right.
"He was pumping himself up. He was playing, you know, good tennis again," said the Japanese. "I'm sure he's in good shape again. I think confidence is back for him.
"After coming back from injury, you've got to pump yourself a little more than before."