'It's a great a team and everyone is doing really well, the preparation has been excellent. If we play well and gel together the team gold is definitely possible'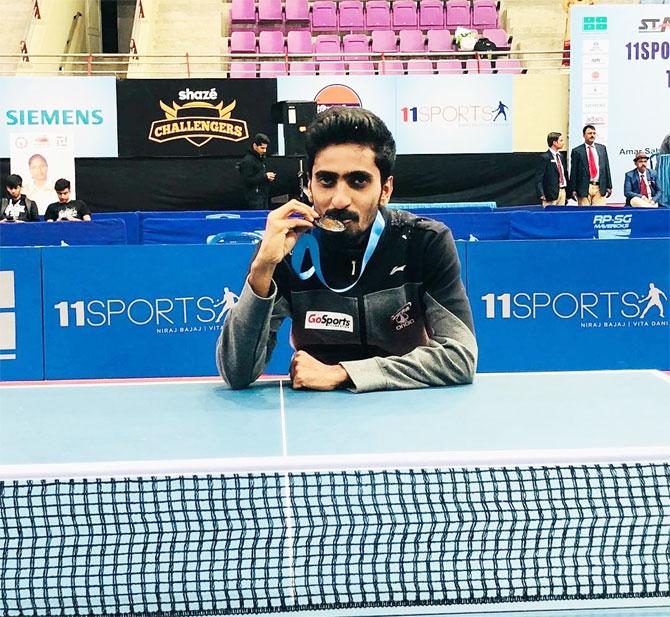 IMAGE: Indian paddler G Sathiyan is confident of bringing home a medal at the Commonwealth Games starting in Gold Coast, Australia, on April 4. Photograph: Kind courtesy, Dabang Smashers/Twitter
Dealing with the loss of a parent dwarfs just about every other challenge in life, says India's top-ranked table tennis player G Sathiyan, who feels he is a stronger and hungrier person going into next month's Commonwealth Games after coping with the death of his father last year.
The 25-year-old, who shot to fame by becoming the second Indian to win an ITTF event -- the Belgium Open in 2016, is a strong medal hope in the Gold Coast Games starting April 4. He has also won a gold in the ITTF Challenge -- Spanish Open last year in the men's singles category.
"I couldn't participate in Rio as I had to play one tournament but my father passed away at exactly the same time. Dealing with that has made me stronger, mentally. I thought nothing can be more difficult than this," Sathiyan told PTI in an interview, recalling the trauma he went through when his father V Gnanasekaran passed away.
"It helped me face challenges and top players in crucial points and games. I improved, I was hungrier to succeed and started looking beyond not just being on the team but becoming a medal prospect," he said.
A gold-medallist at the Commonwealth Youth Games 10 years ago, Sathiyan is now aiming to strike gold at the senior edition.
"I am expecting nothing less than gold. We have a great team, I think it's the strongest team India has ever fielded in the Commonwealth Games for table tennis," he asserted.
The 10-member Indian squad, to be guided by Italian coach Massimo Constantini, has six players in the top 100, with two of them in the top 50 and two just outside.
"It's a great a team and everyone is doing really well, the preparation has been excellent. If we play well and gel together the team gold is definitely possible," the Chennai-born paddler said.
After a disastrous campaign four years ago in the Glasgow edition where England got the better of India, Sathiyan is ready to avenge the defeat.
IMAGE: G Sathiyan. Photograph: Facebook
"England will be a challenge but Sharath (Kamal) and I have been playing very well together. We have defeated England twice last year in the World Championships and if we continue this form we can do it again, a gold in doubles is on the cards," a confident Sathiyan said.
"In singles, I will probably be seeded number two or three, in the top four, if I play consistently at the level I have in the past couple of months I have realistic chance of winning gold," he said.
With three golds in sight, Sathiyan is also hopeful of breaking the jinx by winning a maiden medal for India in the mixed-doubles event.
"Mixed doubles is a bit difficult, but the girls have also improved a lot. We hope to break that jinx this year and bring a medal there also."
He made headlines earlier this year when he surpassed Sharath Kamal to become India's highest-ranked player, by jumping 19 places to reach a career-high world ranking of 49.
Asked about the new ranking system that has helped him break into the top 50, the paddler was all praise for it.
"The earlier ranking system was stale. The well-known players just had to show up in 2-3 tournaments and their rankings wouldn't change. It was difficult for young players to break in. Even Federer has to win tournaments to maintain his rank," Sathiyan explained.
"With the new system it has become a lot more exciting and even the participation has increased, we get to see a lot more of big Chinese players in tournaments," he added.
Riding high on a string of good performances but Sathiyan is also well aware of his shortcomings and knows he has to work on them in order to remain at the top of his game.
"I need to work on more skills, I need to work on my serve and receives. I need to bring in more variety at the top level. Because people have now started noticing they are coming up with more retorts," Sathiyan said.