Robert Hoyzer, the referee at the centre of Germany's match-fixing scandal, came up with the idea of rigging games, the alleged ringleader of the two-million euro fraud told a court on Thursday.
Ante Sapina, who prosecutors accuse of leading a criminal betting gang that influenced, or sought to influence, 23 matches, said he steadily got to know Hoyzer better from early 2004 to May of that year when the two hatched a plot to rig a match.
"He offered... He said how would it be for you if Paderborn won at the weekend," Sapina, dressed in jeans and a red sweatshirt, told the court in a full day of testimony.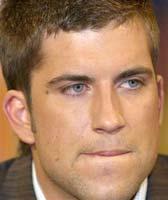 Hoyzer was in charge of the regional league match between SC Paderborn and Chemnitz on May 22, 2004, the first of nine matches prosecutors said he fixed or tried to steer for Sapina's benefit in return for 67,000 euros and a flat-screen television.
Referees Hoyzer and Dominik Marks and former first division player Steffen Karl are charged with organised fraud for seeking to rig a series of matches from April to December 2004 on instructions from Sapina, aided by his brothers Milan and Filip.
The Croatian brothers, operating out of a bar in Berlin that Milan owned, made over two million euros in bets on the rigged games, prosecutors say.
Ante Sapina admitted on the opening day of the trial on Tuesday that the charges against him were essentially true.
On Thursday, he described how he had come to know lower league players, including Karl, who were prepared to underperform, give away penalties and even get sent off to allow their opponents to win in return for a fee from Sapina.
MIXED RESULTS
With Hoyzer, Sapina said, the match-fixing had produced mixed results after five games. Sapina told the court he had considered giving up, but Hoyzer suggested they focus on his next match in charge -- a German Cup first round tie.
"If it doesn't work, we'll drop it," Sapina said he told Hoyzer who by now had become a friend and a regular in the bar.
| | |
| --- | --- |
| | Also Read |
| | |
Hoyzer in fact helped Paderborn come from two goals down to score a shock 4-2 victory over first division Hamburg SV on August 21 by awarding the regional league side two dubious penalties and sending off Hamburg striker Emile Mpenza.
Sapina made over 750,000 euros from the game, while Hoyzer's reward was 20,000 euros, prosecutors say.
The scandal, uncovered at the start of this year, has embarrassed Germany's soccer authorities as the nation prepares to host the 2006 World Cup. It is the worst case of alleged match-fixing in Germany for 30 years.
The trial is expected to last for at least a month and may even still be in progress when the most powerful figures in international soccer gather in Leipzig on December 9 for the gala draw for the World Cup finals.
Hoyzer, in a suit, made copious notes throughout Thursday's session and grinned briefly at one point. His lawyer Thomas Hermes commented that Sapina's testimony had appeared to lessen his crime and make Hoyzer's role seem more serious.
Hoyzer, who has been banned by the German football association, is expected to give his version of events next.
"There will be differences between the accounts," Hermes said. Hoyzer will probably address the court next week.