Lionel Messi does not need a Copa America win to feel like the king of the world. He captured that crown a long ago, says Dhruv Munjal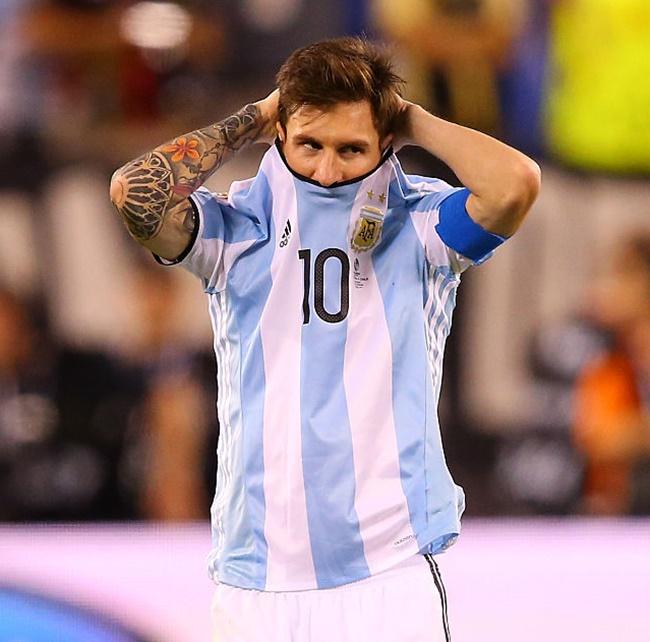 IMAGE: The look on Lionel Messi's face says it all after he fluffed his kick in the tie-breaker in the Copa America Centenario final between Argentina and Chile. Photograph: Mike Stobe/Getty Images.
In the end, the night of the supposed coronation turned into a diabolical night of abdication. Just that Lionel Messi does not need to win a Copa America to feel like the king of the world. He captured that crown long ago. And nobody can take that away.
Against Chile on Sunday night, the usual deadpan calm before Messi stepped up to take Argentina's first spot kick in the shootout was palpable. The ball had been immaculately placed; no deep breaths, no jangling nerves. Just that familiar phlegmatic face. For a few nervy moments, the Metlife Stadium in East Rutherford was the scene of the stirring climax of a Hollywood film: Time paused and everything stood still. Much to the horror of the audience though, Messi blazed over.
The match itself was no surprise — Argentina had abjectly imploded in yet another major final. What happened after the game was, this was a defeatist set of words from the finest winner we've ever known. Messi had grown tired of losing finals and this was it. At 29, he had clearly seen enough. It was one of those cynical, impetuous post-calamity thoughts that he may end up regretting. The stunning sense of fatalism wasn't lost on anyone.
For a man who is used to devouring trophies for lunch, this agonising wait for a major trophy with the national team had gone on for maybe far too long. LeBron James once said that ever since he was a kid, he was always the winner. Messi belongs to that very pantheon of immortals. Second just would not do. But someone also said that winners always keep trying. The hurt we understand, the giving up part we don't even want to get around to.
What killed Messi's international career wasn't what so cruelly unfolded in New Jersey last night. It was an arduous comparison.
We should seriously stop. This rabid, desultory debate around who's better — Messi or Diego Maradona — has sapped our brains enough. The head has started hurting now. Messi is the greatest player of his generation, and perhaps, the best ever to have stepped on a football pitch. Even Maradona will tell you that. Pep Guardiola, Ruud Gullit and Luis Enrique acknowledged that long ago. A few desolate nights — Maracaibo, Rio de Janeiro, Santiago and East Rutherford — cannot change that. Those who think it can must refresh their memory with highlight reels from spine-tingling nights in Rome, London and Berlin.
Yes, Maradona won a World Cup. But he never won the European Cup; Messi has four of them. And, there is a general consensus that the quality of football in the Champions League has long surpassed the kind of football that major international tournaments dish out. Oh, and Messi also has five Ballons d'Or. All Copa Americas and World Cups carry is gargantuan symbolic value, the kind that has hauntingly cast shadow over Messi's status as the most outstanding player we've ever seen.
Messi's decision to retire is as premature as it is fatuous. The World Cup in Russia two years from now would have been a more logical departure. At 31, he would have still been pretty much the same player, maybe minus the dizzying pace but he would have still carried the same adroit wizardry. He leaves the international scene as Argentina's record goal-scorer, a landmark he achieved by going past Gabriel Batistuta against the USA last week with a sumptuous freekick.
Moreover, Argentina's failure in America isn't just about Messi; it is also about Angel Di Maria, Gonzalo Higuain, Sergio Aguero and Javier Mascherano. Even in the final, Messi ran the game with startling efficiency, often leaving opposition defenders in a stupefying daze. Only the finishing touch eluded him. Unfortunately for him and Argentina, it turned out to be another of those nights where it just wasn't to be.
When historians eventually dissect this forlorn loss, Messi will be remembered as the man who missed. But for so long, he was the only one who kept this team up. Had it not been for all the dreadful heartache, the world would have seen more of Messi in an Argentine shirt. They should not even think about looking for a replacement.