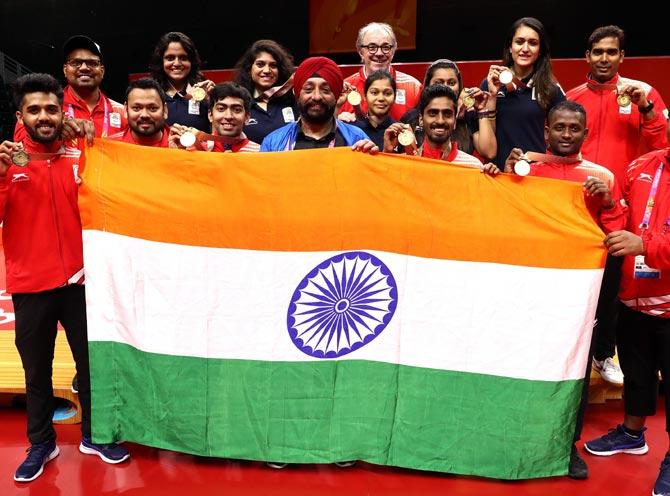 A summary of India's results on Day 5 of 2018 Commonwealth Games in Gold Coast:

ATHLETICS

Men's High Jump: Tejaswin Shankar finished fifth.

Women's 400m heats: Poovamma Raju Machettira finished fifth; Hima Das finished third.

Men's 400m: Muhammed Anas qualified for final.

Men's Shot Put Final: Tejinder Singh finished eighth.
Women's 10,000m Final: Loganathan Suriya finished 13th.

BADMINTON

Mixed Team Event final: India beat Malaysia 3-1(GOLD)

BOXING

Men (60 kg round of 16): Manish Kaushik beat Michael Alexander 4-0.

Men ( 52kg Round of 16): Gaurav Solanki beat Akimos Annang Ampiah 5-0.

LAWN BOWLS

Women's pair: India beat Wales 20-16

Women's Triples Sectional Play: Fiji beat India 23-15

Men's Singles Sectional Play: Krishna Xalxo beat Cephas Kimwaki Kimani 21-12.

SHOOTING

Men's 10m air pistol: Jitu Rai (GOLD); Om Mitharval (BRONZE)

Women's 10m Air Rifle: Mehuli Ghosh (SILVER); Apurvi Chandela (BRONZE)

Men's Skeet: Smit Singh finished sixth; Sheeraz Sheikh failed to qualify for finals.

SWIMMING

Men's 50m Freestyle: Virdhawal Khade finished sixth in heats.

Men's 200m Backstroke: Sirhari Nataraj finished sixth in heats.

TABLE TENNIS

Men's Team Event Final: India beat Nigeria 3-0 (GOLD)

WEIGHTLIFTING

Men's 105kg: Pradeep Singh (SILVER)

Men's +105+kg: Gurdeep Singh finished fourth

Women's +90kg: Purnima Pandey finished sixth

Women's 90kg: Lalchhanhimi finished last