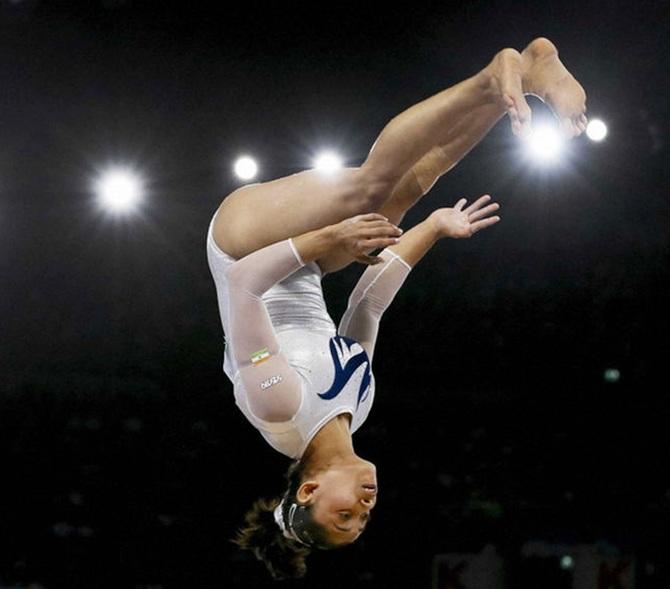 IMAGE: India's Dipa Karmakar in action. Photograph: PTI
In many ways, most success stories in Indian sports are partly human interest stories. If it is in gymnastics, an obscure sport for Indians to take up, it's most certainly to be one. The tale of Dipa Karmakar is one such.
I'm very lucky that my dad introduced me to gymnastics: Dipa
Dipa Karmakar, a recent recipient of the Arjuna award, is the first Indian to make enter the final of the World Championships and finished fifth in the rankings. She has emerged as a new icon for upcoming young gymnasts of Tripura.
The remarkable thing about the 22-year-old is that she does not seem to be overawed by the fact that she has competed with the finest of gymnasts. In fact, she managed to mix up with other young aspiring gymnasts.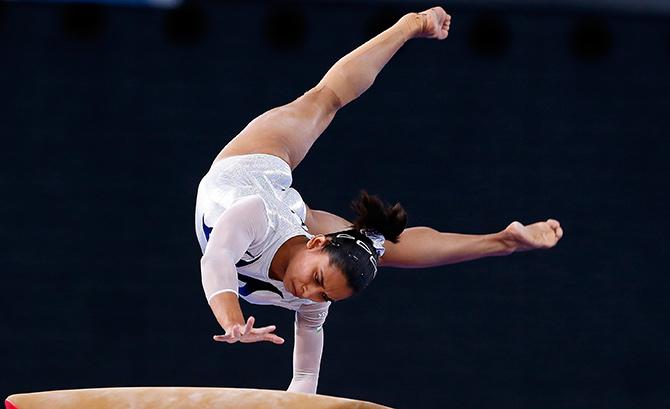 IMAGE: India's Dipa Karmakar performs during the women's gymnastics vault apparatus final at the 2014 Commonwealth Games in Glasgow. Photograph: Andrew Winning/Reuters
Dipa has represented India at different international events like the 2010 Commonwealth Games and the Asian Games in China. She has excelled at the balancing beam, uneven bars, floor exercises and the vaulting table.
"Here, Dipa didi (sister) is the most successful gymnast and our inspiration. So, we are practicing hard in order to become good gymnasts and bring laurels for Tripura. For the last nine to ten years, I am practicing three hours in the morning and another three hours in the afternoon so that we are also successful in the coming days," said Paban Sarkar, an aspiring gymnast.
"I want to be like Dipa, very famous. I want to be like her and participate in gymnastic competitions outside," said Hriday Sarkar, another gymnast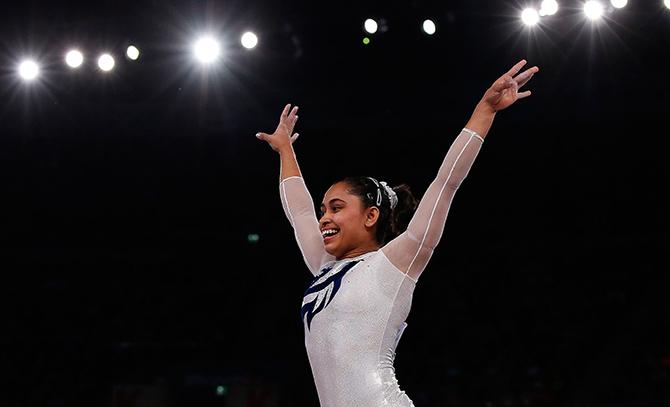 IMAGE: India's Dipa Karmakar reacts after a successful vault. Photograph: Phil Noble/Reuters
Today, Dipa is rated as the best Indian gymnast with 53.75 points. Since 2007, she has won 77 medals, including 67 gold. Tripura has produced other gymnasts such as Mantu Debnath and Kalpan Debnath, both of who are also Arjuna awardees.
Dipa's success is another feather in the cap of the Tripura Gymnastic Council.
Dipa's next target is a medal at the Olympics, and for that, she and her coach Bishweshar Nandi, are putting in eight to nine hours of rigorous practice.
But she is also helping young gymnasts so that they can also perform like her or may be better in the coming days and bring laurels to the state and the nation.