Barcelona match played behind closed doors after vote clashes over Catalan referendum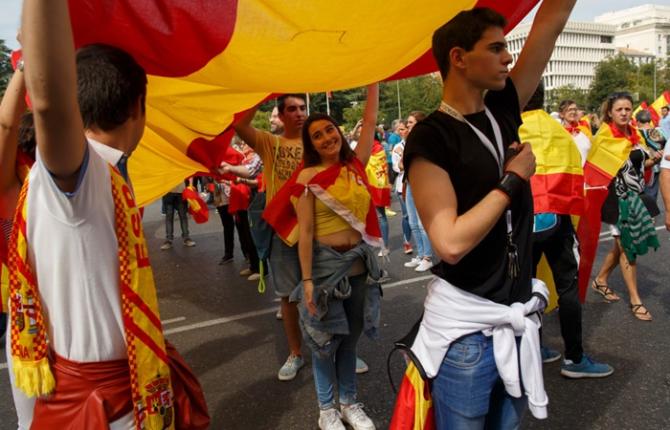 IMAGE: Anti-separatist demonstrators hold Spanish flags as they take part in a protest in support of Spain's unity ahead of Sunday's Catalan referendum vote. Photograph: Pablo Blazquez Dominguez/Getty Images
Barcelona's La Liga match with Las Palmas on Sunday was played behind closed doors, without any supporters present, following clashes between police and voters in Catalonia over a disputed independence referendum.
Spanish riot police burst into polling stations across Catalonia, confiscating ballot boxes and voting papers to try to halt the banned referendum on a split from Spain as Madrid asserted its authority over the rebel region. Catalan officials said 337 people were injured in the crackdown.
The clashes prompted Barcelona, the club of the Catalan capital, to announce the Las Palmas match would be played in front of an empty Nou Camp stadium.
"FC Barcelona condemns the events which have taken place in many parts of Catalonia today in order to prevent its citizens exercising their democratic right to free expression," the club said on its website.
"Given the exceptional nature of events, the Board of Directors have decided that the FC Barcelona first-team game against Las Palmas will be played behind closed doors following the Professional Football League's refusal to postpone the game."
Las Palmas had said earlier in the day that they would wear the Spanish flag on their jerseys for the match to support the unity of Spain.
"We decided to wear a small Spanish flag on our shirts today to display unequivocally our hope in the future of this country," their statement said.
The game was thrown into chaos when reports in the Spanish media said the club had postponed the game less than an hour before kick off, and supporters were not allowed through the Nou Camp gates.
Both Las Palmas and Barcelona published their starting lineups for the game, with the announcement that the game would go ahead without supporters coming 25 minutes before kick off.
Spanish soccer federation rules state that a game can only be postponed if the police cannot guarantee the safety of spectators.
If Barcelona had suspended the game without the consent of the federation, they would have automatically lost the game 3-0 and had a further three points deducted.
Barcelona supporters group Grada d'Animacio, which organises the "singing section" behind one of the goals at the Nou Camp, pledged to invade the pitch, if the game went ahead, in protest at the police crackdown.
Former Barcelona captain Xavi Hernandez also condemned the police action, in a video released on social media.
"What is happening in Catalonia today is shameful," said Xavi, who has made more appearances for Barcelona than any other player.
"It's unacceptable that people are not allowed to vote in a democratic country. All my support goes to the people who are peacefully trying to exercise their right to vote. Long live Catalonia."