'A football team never prepares to lose a match and we are preparing to win. It is our home ground and it is a big advantage'
Suresh wants to make home advantage count in U-17 World Cup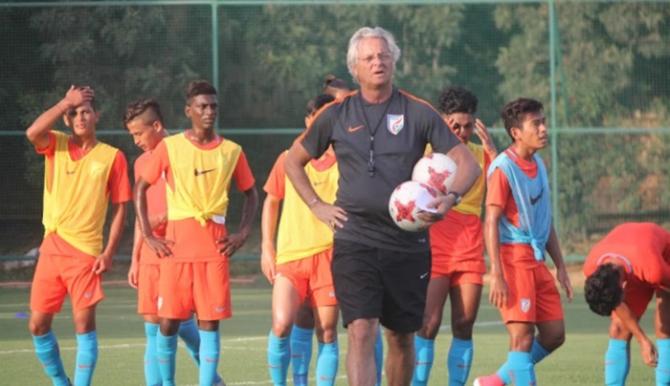 IMAGE: Luis Norton de Matos looks hopeful. Photograph: AIFF Media.
India may be the underdogs in the upcoming FIFA U-17 World Cup but midfield-lynchpin Suresh Singh Wangjam is confident that playing on the home soil would help them do well in the prestigious tournament.
India are drawn with United States of America, Colombia and Ghana in Group A and head coach Luis Norton de Matos has been saying all along that a knock-out spot could be difficult for the home side if not impossible.
Asked about India's chances in the October 6-28 tournament, Suresh said, "A football team never prepares to lose a match and we are preparing to win. It is our home ground and it is a big advantage."
"We are preparing well and we have had exposure tours and competitions abroad. So, we want to do our best. Let us see what we can do," Suresh, who led the side in the AFC U-16 Championships and BRICS Cup in 2016, said.
The 17-year-old Suresh said he was ready for the big event and looking forward to the opening match against USA at the Jawaharlal Nehru Stadium on October 6.
"It is my first World Cup and I don't know what will happen. But we want the day to come and wear the national jersey in a World Cup," said the Manipuri, who is one of the most-capped players in the team.
We can put strong teams under pressure on our day: Matos
Entering the FIFA U-17 World Cup as the underdogs, India coach Luis Norton de Matos said his players can give strong teams "a run for their money" on their day.
"If we play to the best of our abilities, we can put a lot of good teams under pressure and give them a run for their money. On our day, we can put strong teams under pressure," Matos said.
"Even if there is five per cent chance of winning a match we will fight for the margin and try to extend it."
Matos was appointed head coach in March this year and in a short span of time, he has tried to build a team ready to fight the best, and the Portuguese is now optimistic.
"The players are very focused and are very proud to play for the country. All players are perhaps going to give their 200 per cent and will play to the best of their abilities. It is evident that they are raring to go."
The India U-17 side is currently training at the Conscient Football ground in Gurugam.
"The boys know the meaning and sentiment of wearing a national team jersey in a mega tournament like the FIFA World Cup. The sentiment of wearing the national colors and giving your all for the country runs deep in this team.
"In football anything is possible and we will take to the field keeping in mind that fact, to show the world that we belong on the same stage as them."
The Indian Colts face USA on October 6, before locking horns against Colombia and Ghana on October 9 and October 12 respectively at the Jawaharlal Nehru Stadium.