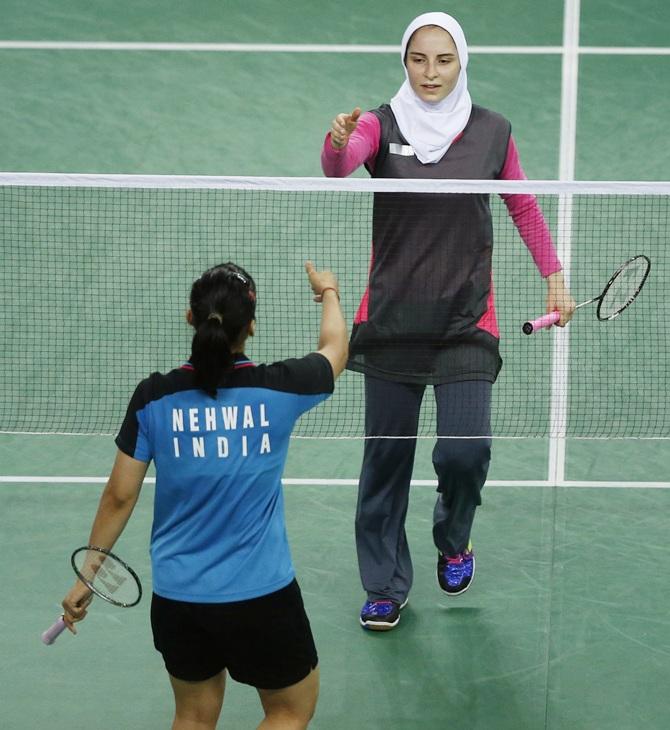 Iran's Aghaei Hajiagha Soraya, right, shakes hands after losing to India's Saina Nehwal in the women's singles badminton match at Gyeyang Gymnasium during the 17th Asian Games in Incheon. Photograph: Olivia Harris/Reuters
Banned by basketball's governing body and a source of controversy at the Asian Games, hijabs were worn freely at the archery tournament in Incheon on Friday as athletes struggled to comprehend how a headscarf could cause such an uproar.
Complete coverage: 2014 Asian Games
Female archers from Iran, Iraq and Indonesia competed at the Gyeyang Asiad Archery Field wearing navy blue and black headscarves, a right denied the Qatari women's basketball team this week.
An assistant with Qatar's National Olympic Committee told Reuters the basketball team had already left South Korea, where 9,500 athletes from 45 countries had gathered to compete at the Games under the slogan, "Diversity Shines Here".
'Hijab doesn't cause me any problems'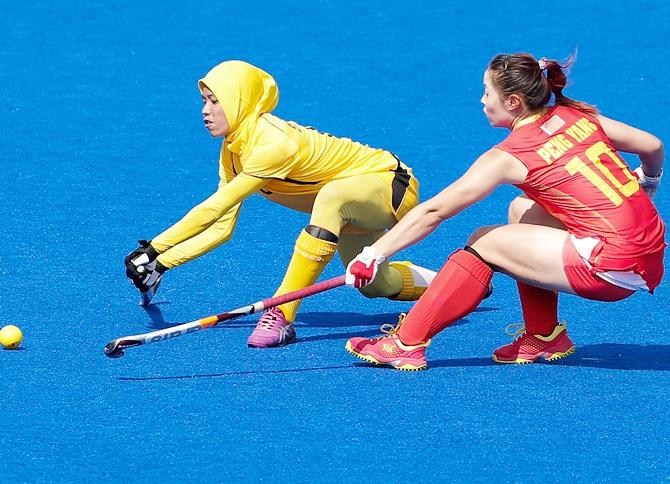 Peng Yang of China, right, against Raja Norsharina Raja Shabuddin of Malaysia. Photograph: Lintao Zhang/Getty Images
The players chose to forgo their Asian Games dreams rather than abide by International Basketball Federation (FIBA) rules banning headgear.
"The players looked sad about leaving but they totally understand the rule," the assistant said, adding that they had left earlier than expected.
"Actually they were supposed to have training today. Everybody thought they would stay two or three more days, but they left early."
Iran's Shabnam Sharlak said that she has no safety issues competing in the compound bow with the hijab, which is traditionally worn by some Muslim women.
"I'm an archer and the hijab doesn't cause me any problems such as abrasions or things like that," she said.
"For basketball? It's just running, I don't think its a problem at all."
An Iranian coach standing nearby added: "Really, what kind of problem does a hijab cause?"
Safety and uniformity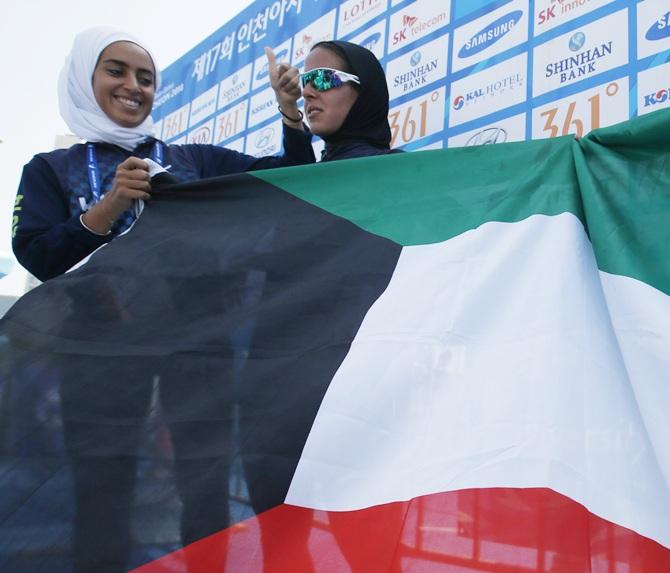 Kuwait's Najlaa I M Aljerewi right, wearing a hijab, holds her national flag with her sister. Photograph: Kim Kyung-Hoon/Reuters
For the Asian Games and FIBA, a big one.
The withdrawal of the Qatari team has tarnished the image of the Asian Games, which trumpets diversity and inclusiveness yet said it was powerless to help the players.
Competition at the Asiad is conducted under the regulations of the individual sports' governing bodies, meaning organisers had to follow FIBA Article 4.4.2 prohibiting 'headgear, hair accessories and jewellery' for reasons of safety and uniformity.
Human Rights Watch has told Reuters it should have been up to FIBA to prove why Qatari players should not wear headscarves.
"In the case of basketball, it's difficult to see how a ban on the headscarf is anything other than an unnecessary restriction on the players' rights to religious freedom and personal autonomy."
'Our religious freedom'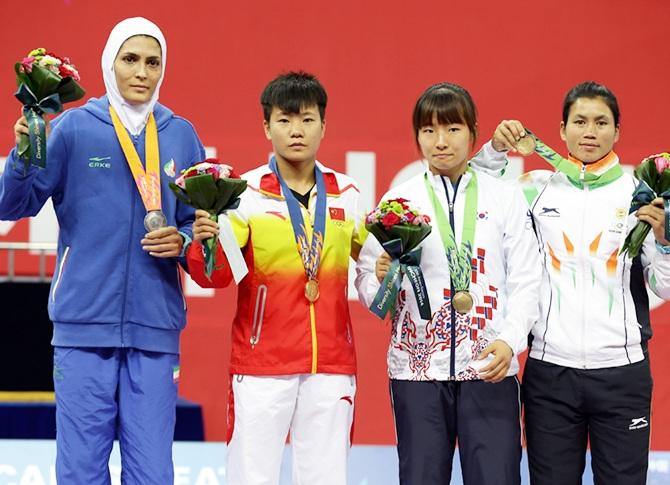 The Medalists poses for photographs of the Women's 52kg Final at the presentation ceremony during the Wushu Sanda Final. Photograph: Stanley Chou/Getty Images
Indonesian archer Sri Ranti said she did not understand why she was allowed to wear an Islamic headscarf but other athletes in different sports were not.
"It's about our religious freedom," she added. "I don't understand it."
An archer on the Qatari men's team, Al Mohandi Ibrahim Mohammed, said the issue was one of safety rather than religion but added that there were other more dangerous things to look out for than headscarves.
"I don't think they are targeting Muslims, I believe that the hijab is banned for safety reasons," he told Reuters.
"But from what I understand, hijabs, bandanas and hairbands are all allowed in the Women's National Basketball Association.
"I think a long ponytail would probably cause more safety problems."