Victory moved Angela Lee to 3 victories and no losses in her career, and more significantly, carved her name into the annals of history
If Mayweather and Rousey rule the fight sport industry in the west, then Lee has set herself up to become the queen next to Manny Pacquiao in the east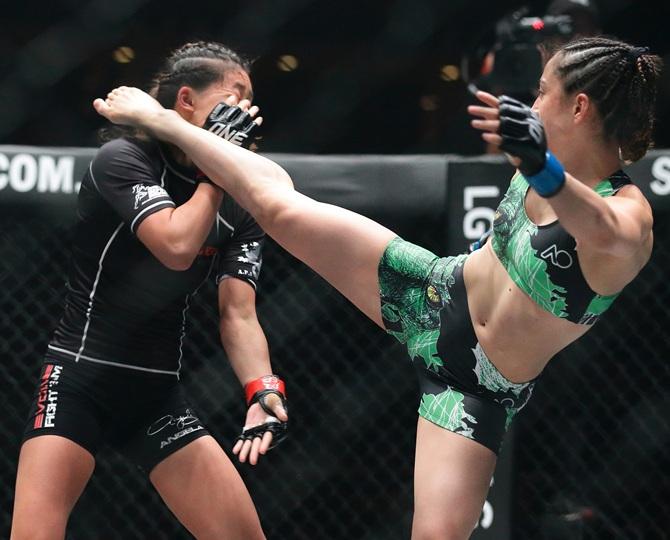 IMAGE: Singapore's Angela Lee, left, fights Natalie Gonzales Hills of Philippines in the women's Strawweight bout during the One Nation Pride of Lions at Singapore Indoor Sports Stadium. Photograph: Suhaimi Abdullah/Getty Images
The Twister is a rarely seen submission in the world of mixed martial arts. Invented by jiu-jitsu genius Eddie Bravo, the move involves using your legs and hips to secure the opponent while using your arms to contort them in the opponent direction. When it is successfully executed, the opponent has no choice but to immediately tap out thanks to the effectiveness of the move. Chan Sung Jung applied the move against Leonard Garcia in 2011 and it was touted as one of the best submission finishes of all time and earned him multiple submission of the year honours.
Last Friday night in the Singapore Indoor Stadium, the world witnessed the first Twister in women's mixed martial arts. Undefeated Singaporean Angela Lee executed the move on her opponent, Natalie Gonzales Hills, at ONE: PRIDE OF LIONS. Gonzales Hills quickly tapped the moment the move was locked in, much to the delight of the 12,000-strong Singaporean crowd in attendance. The victory moved Angela Lee to 3 victories and no losses in her career, and more significantly, carved her name into the annals of history.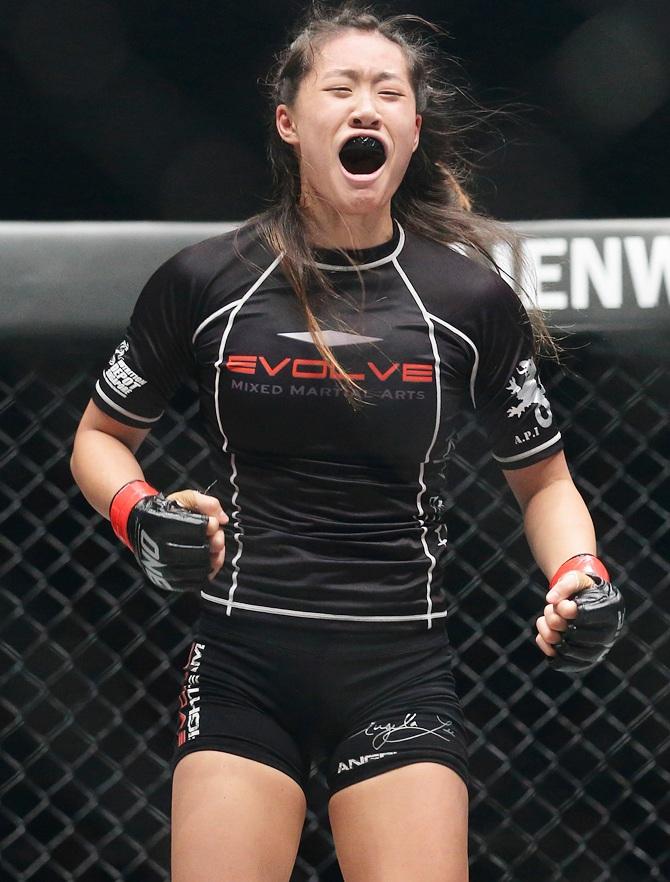 IMAGE: Angela Lee of Singapore reacts after defeating Natalie Gonzales Hills of Philippines. Photograph: Suhaimi Abdullah/Getty Images
The submission could prove to be the turning point for women's mixed martial arts in Asia. Women in mixed martial arts have been fighting to gain recognition alongside their male counterparts. In North America, the emergence of Judo Olympic medallist and undefeated mixed martial artist Ronda Rousey have brought mainstream attention to female mixed martial arts. She is now regarded as the biggest combat athlete after Floyd Mayweather in the western hemisphere.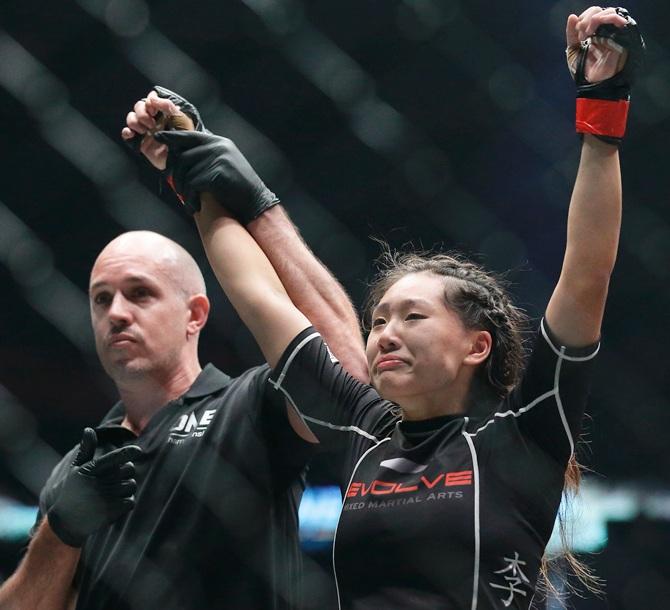 IMAGE: Angela Lee of Singapore, right, celebrates. Photograph: Suhaimi Abdullah/Getty Images
If Mayweather and Rousey rule the fight sport industry in the west, then Lee has set herself up to become the queen next to Manny Pacquiao in the east. The submission has the MMA community sitting up and taking notice, and Lee has everything that made Rousey a superstar. Not only does she have model-esque looks and a magnetic personality, she can back it up with the skills in the cage. The fans have already taken to the 19 year-old, who got the loudest ovations of the night when she walked out for the fight and when she finished her opponent.
Lee has run through all the opponents put in front of her, and there are already calls for a female world championship title featuring Lee. With her performance to date, she might be the credibility that vaunts ONE Championship's female athletes to superstardom.