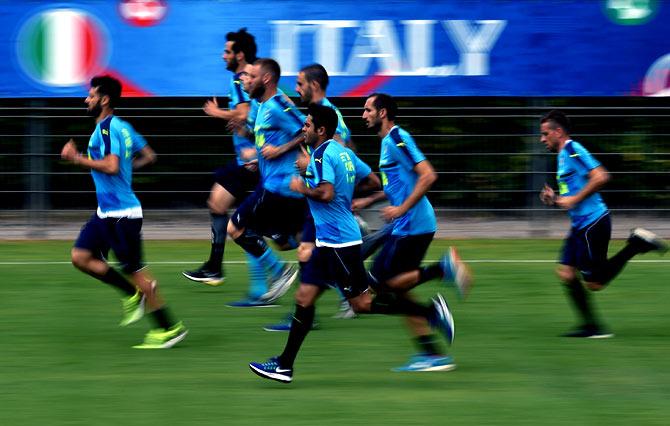 IMAGE: Italy's players during a training session. Photograph: Claudio Villa/Getty Images
Italy coach Antonio Conte summoned help from astronaut Luca Parmitano to inspire his players ahead of Friday's Euro 2016 game against Sweden in Toulouse.
Parmitano, who became the first Italian to take part in a spacewalk in July 2013, gave a talk to the Italy squad this week at the Casa Azzurri in Montpellier, the team's headquarters in France.

The 39-year-old Parmitano stressed the importance of teamwork, motivation and preparation, something Conte has tried to transmit to his players since he took the reins in 2014.

"I'm not a football expert but I am a fan of the national team," Parmitano told the Italian Football Federation (FIGC). "Even we, astronauts, are a small team, we train in a rigorous manner and we wear a blue suit. Just like the players of the national team, we are aware that we represent Italy's image around the world."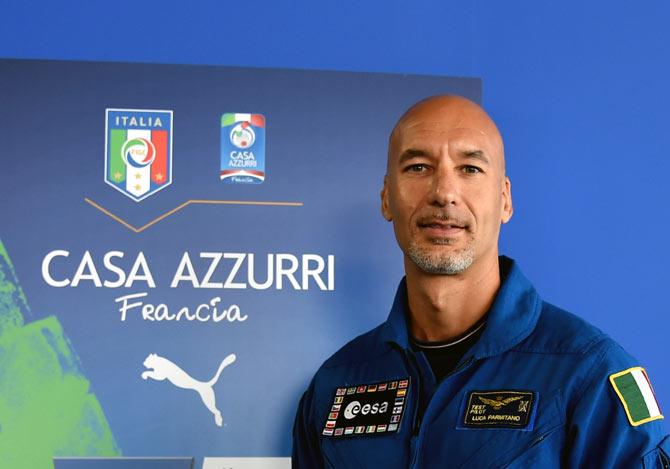 IMAGE: Italian astronaut Luca Parmitano. Photograph: Claudio Villa/Getty Images
Italy, runners-up at Euro 2012, arrived in France minus star players and with a squad that many believed to be the country's weakest in a long time.

However, Conte's men showed a workmanlike display in their 2-0 triumph over Belgium in their Group E opener on Monday. After the game against Sweden, Italy end the group stages against Ireland in Lille next Wednesday.