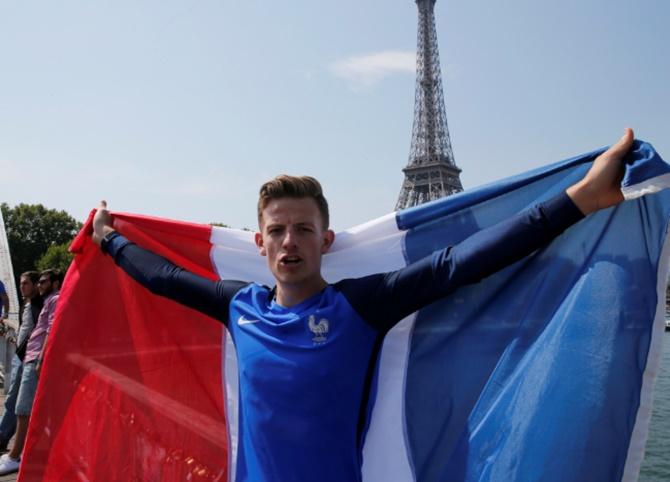 Crowds of cheering French soccer fans began gathering in Paris on Sunday, draped in red, white and blue and singing the Marseillaise, as excitement was building ahead of the France-Croatia showdown at the World Cup final in Moscow.
A day after the nation celebrated Bastille Day - the storming of a prison during the French Revolution in 1789 - with a late-night fireworks display over the Eiffel tower, large numbers began congregating in the same spot to watch the final.
A fan zone had been set up in front of the Eiffel tower with giant TV screens and space for at least 90,000 spectators, officials said. Many were already there five hours before the match kicks off, with faces painted, flags draped and voices in full song.
French striker Kylian Mbappe, one of the standout stars of the World Cup, fuelled the national mood via Twitter.
"Happy national day to all, let's hope the party continues until tomorrow night," the 19-year tweeted on Saturday. His picture graced most newspapers on Sunday as French hopes soar that they can bring the World Cup home for a second time.
"Get us the second star!" urged Le Parisien newspaper, hoping for a repeat of the team's 1998 win on home soil.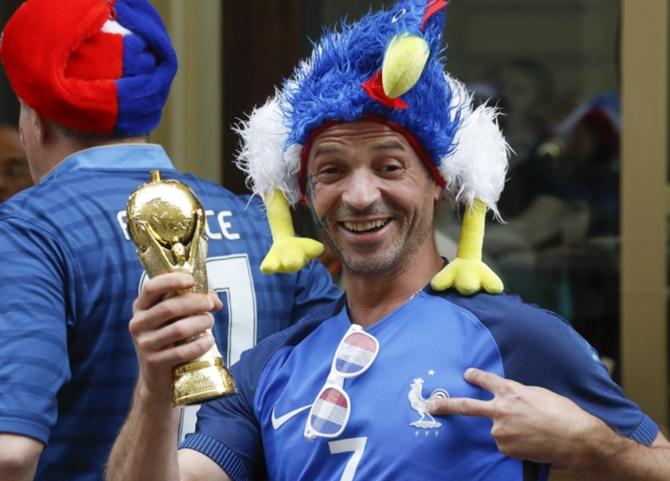 Sports newspaper L'Equipe shared those hopes.
"Carried by a whole country, Les Bleus of Didier Deschamps and Kylian Mbappe are on a quest for a second World Cup title, and thus of a second star, 20 years after the last one," it wrote. "So far, fortune has smiled on them. Now in the Final is the dreaded Croatia."
The national team strip has been selling out across the country in the run up to the final, and chefs and bakers have been getting into the atmosphere, producing cakes and specialities in red, white and blue to honour the team.
"Come on Les Bleus!," shouted a fan with a French flag draped across his shoulders as he and a group of supporters made their way towards the Eiffel tower fan zone.
On the Champs Elysees, horns were blaring, tricolor flags waving and a group of fans jumped up and down on a red, white and blue car, blaring pro-France songs from a speaker.
"Yeah! We believe in a win. N'golo Kante, you'll score. Grizou (Antoine Griezmann), you too. It's the final guys, let's do it!" screamed one man.
At the foot of the Eiffel tower, builders were at work early to install one of the biggest TV screens imaginable - 140 square metres (1,500 square feet) in size and adapted to be watched in broad daylight, said construction manager Yvan Hinnemann.
Along the Champs Elysees and at the Arc de Triomphe, French flags from the previous day's Bastille celebrations where still fluttering as some fans walked along the tree-lined avenue.
"I hope for a win, that is it. And even if we don't win, we're going to party," said Corrine who had travelled from northern France with a group of friends, all decked out in French colours on the Champs Elysees.