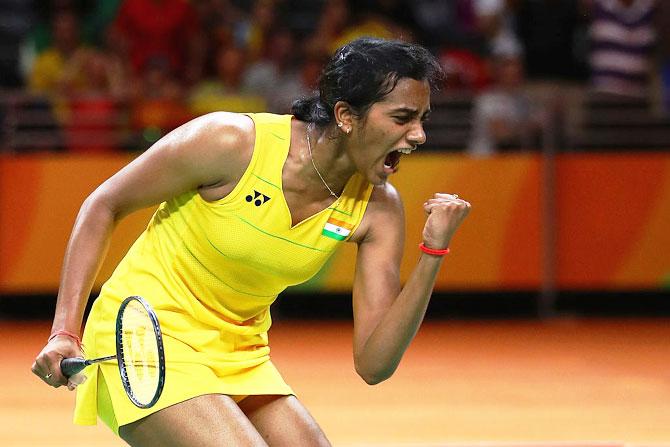 IMAGE: India's P V Sindhu celebrates. Photograph: Clive Brunskill/Getty Images
Rio Olympic silver-medallist P V Sindhu entered the semi-finals of the Hong Kong Super Series after posting a hard-fought victory over Singapore's Xiaoyu Liang even as Saina Nehwal bowed of the competition on Friday, ending all hopes of a Saina-Sindhu semi-final battle.
Earlier on Friday, Sindhu, who clinched the China Open last week, staved off a stiff challenge from Xiaoyu Liang in the quarter-final to win 21-17, 21-23, 21-18 in a match that lasted an hour and 19 minutes at the Hong Kong Coliseum.
Fifth-seeded Saina was stunned by unseeded local shuttler Cheung Ngan Yi 8-21, 21-18, 19-21 in a contest that lasted an hour and 11 minutes.
The Indian had earlier beaten Cheung Ngan Yi at the World Championships last year.
Analysing her quarter-final victory, Sindhu said: "I was leading but lost the second game. She (Xiaoyu Lian) played well. I was very nervous and gave a huge lead. I was 7-15 down in the third. My shots were going out, even the once I had to get. I was not confident in playing strokes. Even when I played safe the shots were going out.
"I didn't know what to play. After 7-15 I got confident. Liang is good, she has improved a lot. I was not up to the mark," said Sindhu.
Saina said that since the last two matches were very tiring, it became a bit tough for her today as she was still not 100 per cent fit.
"The last two matches were too tiring. I pushed myself but it was too tough for me today. I was trying but she (Cheung Ngan Yi) was a bit more alert in the end. I was trying to get my breath back and she was pushing hard," said Saina.
"I had the feeling I could have won. But it is not easy when you are not fit. I'm not disappointed with the loss. I am happy that I am playing well after comeback. I could have played semis but when your condition is not good you can't expect too much," she added.
Later, Sameer Verma reached the semi-finals of the men's singles after getting the better of Malaysia's Chong Wei Feng 21-17, 23-21 in just 47 minutes.
However, it was curtains for Ajay Jayaram who was ousted in the quarter-final after losing to NG Ka Long Angus of Hong Kong 15-21, 14-21 in 32 minutes and crashed out of the event.
In the meanwhile, there has been slight movement in the latest BWF rankings -- Sindhu has jumped two places, courtesy her China Open win, to grab the ninth spot, while Saina, who is on a comeback trail after recovering from a serious injury, slipped five places to 11th, owing to her first round exit at the same event.