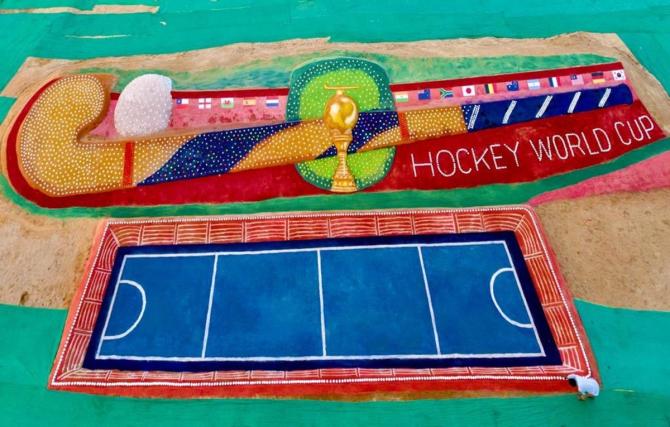 India is all set to host the 15th FIH Men's Hockey World Cup from Friday, January 13. The Hockey World Cup 2023 will see Belgium defend its crown while Australia are considered the favourites for the title.
Odisha will be the cynosure of international hockey, with the sport's top teams battling it out for the coveted World Cup. Odisha's enthusiasm and love for the sport has made Bhubaneswar the new hockey hub.
16 teams will take part in the hockey World Cup. The teams have been divided into four pools consisting of four teams each.
Teams will play each other once in the pool stage and group winners will straight qualify for the quarter-finals. The second and third placed sides from each pool will compete in cross-overs from where four more teams will reach the quarter-finals.
Pool A: Australia, Argentina, France, South Africa.
Pool B: Belgium, Germany, South Korea, Japan.
Pool C: The Netherlands, New Zealand, Malaysia, Chile.
Pool D: India, England, Spain, Wales.
Here's the schedule of the Hockey World Cup:
| Match No. | Fixture | Round | Date | Time (IST) | Venue |
| --- | --- | --- | --- | --- | --- |
| 1. | Argentina vs South Africa | Group Stage | January 13 | 1:00 PM | Bhubaneswar |
| 2. | Australia vs France | Group Stage | January 13 | 3:00 PM | Bhubaneswar |
| 3. | England vs Wales | Group Stage | January 13 | 5:00 PM | Rourkela |
| 4. | India vs Spain | Group Stage | January 13 | 7:00 PM | Rourkela |
| 5. | New Zealand vs Chile | Group Stage | January 14 | 1:00 PM | Rourkela |
| 6. | Netherlands vs Malaysia | Group Stage | January 14 | 3:00 PM | Rourkela |
| 7. | Belgium vs Korea | Group Stage | January 14 | 5:00 PM | Bhubaneswar |
| 8. | Germany vs Japan | Group Stage | January 14 | 7:00 PM | Bhubaneswar |
| 9. | Spain vs Wales | Group Stage | January 15 | 5:00 PM | Rourkela |
| 10. | England vs India | Group Stage | January 15 | 7:00 PM | Rourkela |
| 11. | Malaysia vs Chile | Group Stage | January 16 | 1:00 PM | Rourkela |
| 12. | New Zealand vs Netherlands | Group Stage | January 16 | 3:00 PM | Rourkela |
| 13. | France vs South Africa | Group Stage | January 16 | 5:00 PM | Bhubaneswar |
| 14. | Argentina vs Australia | Group Stage | January 16 | 7:00 PM | Bhubaneswar |
| 15. | Korea vs Japan | Group Stage | January 17 | 5:00 PM | Bhubaneswar |
| 16. | Germany vs Belgium | Group Stage | January 17 | 7:00 PM | Bhubaneswar |
| 17. | Malaysia vs New Zealand | Group Stage | January 19 | 1:00 PM | Bhubaneswar |
| 18. | Netherlands vs Chile | Group Stage | January 19 | 3:00 PM | Bhubaneswar |
| 19. | Spain vs England | Group Stage | January 19 | 5:00 PM | Bhubaneswar |
| 20. | India vs Wales | Group Stage | January 19 | 7:00 PM | Bhubaneswar |
| 21. | Australia vs South Africa | Group Stage | January 20 | 1:00 PM | Rourkela |
| 22. | France vs Argentina | Group Stage | January 20 | 3:00 PM | Rourkela |
| 23. | Belgium vs Japan | Group Stage | January 20 | 5:00 PM | Rourkela |
| 24. | Korea vs Germany | Group Stage | January 20 | 7:00 PM | Rourkela |
| 25. | 2nd Pool C vs 3rd Pool D | Crossover | January 22 | 4:30 PM | Bhubaneswar |
| 26. | 2nd Pool D vs 3rd Pool C | Crossover | January 22 | 7:00 PM | Bhubaneswar |
| 27. | 2nd Pool A vs 3rd Pool B | Crossover | January 23 | 4:30 PM | Bhubaneswar |
| 28. | 2nd Pool B vs 3rd Pool A | Crossover | January 23 | 7:00 PM | Bhubaneswar |
| 29. | 1st Pool A vs Winner 25 | Quarterfinal | January 24 | 4:30 PM | Bhubaneswar |
| 30. | 1st Pool B vs Winner 26 | Quarterfinal | January 24 | 7:00 PM | Bhubaneswar |
| 31. | 1st Pool C vs Winner 27 | Quarterfinal | January 25 | 4:30 PM | Bhubaneswar |
| 32. | 1st Pool D vs Winner 28 | Quarterfinal | January 25 | 7:00 PM | Bhubaneswar |
| 33. | 4th Pool A vs Loser 25 | 9-16 Classification | January 26 | 11:30 AM | Rourkela |
| 34. | 4th Pool B vs Loser 26 | 9-16 Classification | January 26 | 2:00 PM | Rourkela |
| 35. | 4th Pool C vs Loser 27 | 9-16 Classification | January 26 | 4:30 PM | Rourkela |
| 36. | 4th Pool D vs Loser 28 | 9-16 Classification | January 26 | 7:00 PM | Rourkela |
| 37. | Winner 29 vs Winner 32 | Semifinal | January 27 | 4:30 PM | Bhubaneswar |
| 38. | Winner 30 vs Winner 31 | Semifinal | January 27 | 7:00 PM | Bhubaneswar |
| 39. | Loser 33 vs Loser 34 | 13-16 Classification | January 28 | 11:30 AM | Rourkela |
| 40. | Loser 35 vs Loser 36 | 13-16 Classification | January 28 | 2:00 PM | Rourkela |
| 41. | Winner 33 vs Winner 34 | 9-12 Classification | January 28 | 4:30 PM | Rourkela |
| 42. | Winner 35 vs Winner 36 | 9-12 Classification | January 28 | 7:00 PM | Rourkela |
| 43. | Loser 37 vs Loser 38 | 3rd Place Match | January 29 | 4:30 PM | Bhubaneswar |
| 44. | Winner 37 vs Winner 38 | Final | January 29 | 7:00 PM | Bhubaneswar |