Indian Hockey has been dogged by a spate of controversies in recent past, including the pull-out of two senior players from the national camp, but captain Rajpal Singh feels that won't affect the team's performance in the upcoming inaugural Asian Champions Trophy.
"It is true that we have seen a lot of controversies in the recent past but I can assure you that they will not affect us on the ground. All the players are in form and raring to go. The atmosphere in the team is terrific," Rajpal told PTI Bhasha.
The inaugural Asian CT will be played in Ordos, China from September 3 to 11.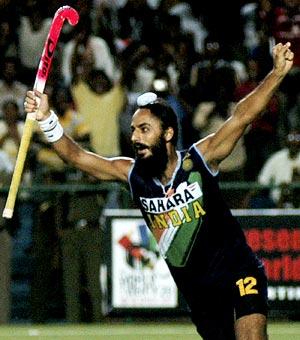 While the team will be leaving on Sunday, Rajpal will go a day later after receiving the Arjuna Award on August 29.
He also denied that the team will miss the services of seniors Sardara Singh and Sandeep Singh who left the national camp for personal reasons.
"We are not feeling any pressure due to their absence. Their replacements (VR Raghunath and Vikas Sharma) are also equally talented. We have to groom the youngsters to field the best team in London Olympic qualifiers."
Asked about the realistic goals in the tournament, he said this will be a launching pad for their preparations for London.
"Coach Micheal Nobbs has been telling us repeatedly that win or loss in this tournament does not matter. We will judge ourselves on the basis of performance in this tournament. It will tell us whether our preparations for the qualifiers is on right track or not," he said.
"We had won a bronze in Asiad, so naturally we would like to go a step further and play the final."
Rajpal, who had a bitter face-off with previous coach Jose Brasa, described Nobbs as a good and understanding coach.
"Nobbs is a good coach. He is a disciplinarian and friendly with players as well. Being an Australian his emphasis is on attacking hockey. As far as Brasa is concerned, there was a small misunderstanding with him. He is also a good coach," he said.
Pakistan captain Mohammad Imran might have said that India will enjoy an edge over his team when the arch-rivals meet in Asian CT, but Rajpal is not thinking on those lines.
"We will face Pakistan in the last match. We will play four matches -- against China, Japan, South Korea and Malaysia -- before that. We can qualify for the final by winning first four matches and then the match again Pakistan will be irrelevant for us. We are not thinking about that match as of now."