It is not just the spectators but the players and coach of the Indian hockey team, who are equally disappointed with India losing the right to host of this year's Champions Trophy hockey tournament. National team coach Michael Nobbs said it would rob the fans off an opportunity to witness the game.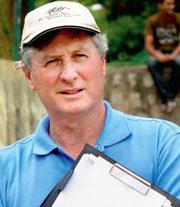 "I think it's very disappointing," said Nobbs, who came to know about the development minutes before the India-South Korea match of the Asian Champions Trophy hockey tournament held in Ordos, China.
"I am saying from the point of hockey. The boys will suffer, as they won't get to play the best teams before the Olympic Qualifying. The hockey loving fans in India will not get to see the Champions Trophy and overall, the game will suffer," he added.    
 The International Hockey Federation (FIH) tournament was to be held in New Delhi from December 3-11 but it was announced on Tuesday that India will no longer host the 2011 Men's Champions Trophy due to ongoing problems with the governance of hockey in the country.
There was hope that the FIH would let India host the tournament even though they were not agreeing with the way hockey was being administered in India. Nobbs didn't want to say too much about the federations running the sport.
"I am only the coach of the Indian team," said Nobbs. "But if I feel the sport will suffer, I do believe both the federations should probably think on the same lines."
With the Champions Trophy withdrawn from the country, India will now go to South Africa to play the Champions Challenge in November.