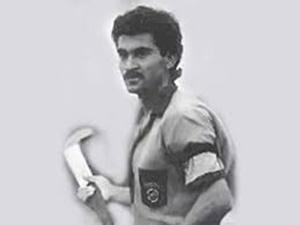 India's former hockey captain Mohammed Shahid, a member of the gold medal-winning team at the 1980 Olympic Games in Moscow, passed away at a Gurgaon hospital following multiple organ failure on Wednesday.
The hockey legend was suffering from severe liver malfunction.
Last month, the 56-year-old was admitted to a hospital in Varanasi for severe stomach pain. He was later admitted to the Gurgaon hospital.
"He breathed his last at 10:45 this morning. It was multiple organ failure that led to his passing away. He will be taken to Varanasi and last rites will be performed there tomorrow," Shahid's son, Mohammed Saif, said.
The noted hockey player won many battles in life but succumbed to the final one.
Union Sports minister Dr Jitendra Singh had announced a grant of Rs 10 lakh for Shahid while Hockey India offered full support to his family.
Known for his dribbling skills, Shahid was considered one of India's greatest hockey players.
He was also part of the national team that won a silver medal at the Delhi Asian Games in 1982 and bronze in the Seoul Asiad in 1986.
A statement from Dr A K Dubey, Medical Superintendent, Medanta The Medicity, read: "Mr. Mohammad Shahid, 56 year old male was brought to Medanta-The Medicity on 29/6/16 with history of jaundice, abdominal distension and reduced urine output. He was immediately admitted under Dr. Randhir Sud, Chairman, Institute of Digestive and Hepatobiliary Sciences. He was diagnosed to have Chronic liver disease, kidney failure and Sepsis.
"He was in a critical condition and was shifted to ICU where a team of Gastroenterologist, Critical care specialist, Nephrologist continued to look after him. His condition continued to deteriorate in spite of all efforts. On 15/7/16 he had to be put on life support and on 20/7/16 at 10:40 am he succumbed to his illness, in spite of all resuscitative efforts."