India are the most decorated nation in the sport's Olympic history but had collected the last of their eight gold medals back at the Moscow Games in 1980.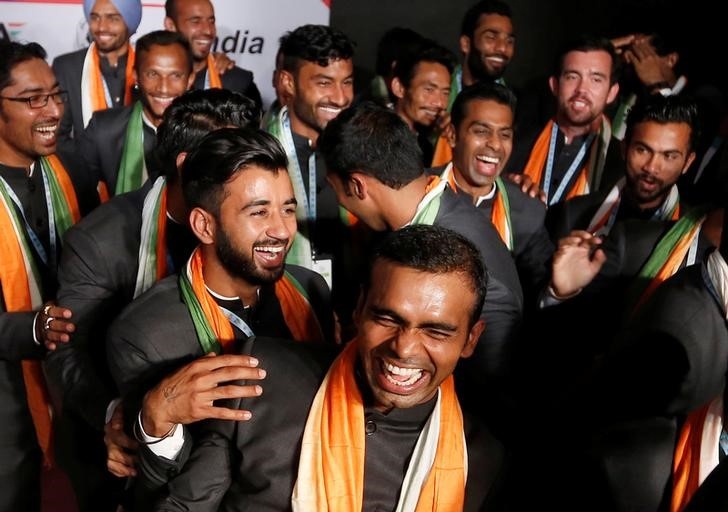 IMAGE: Indian men hockey team captain Sreejesh Parattu Raveendran (C-foreground) shares a moment with his team members, who will participate in the Rio 2016 Olympics. Photograph: Adnan Abidi/Files/Reuters.
PR Sreejesh says his dual role as India hockey captain and goalkeeper is to allow his team mates the freedom to express themselves in Rio but knows he must keep them focused on the medal hunt in the "magic world" of the Olympics.
The 30-year-old was second choice at London 2012 behind then captain Bharat Chetri but has since established himself as the clear number one.
He was named captain for the recent Champions Trophy in London where India rested some seniors, including regular captain Sardar Singh, ahead of the Rio Games.
While Sreejesh led the side to the sliver medal, as India lost the final to Australia in a penalty shoot-out, he said he never imagined it would lead to him wearing the armband at the Rio Games too.
"I never expected it," Sreejesh told Reuters in a recent interview. "I have always said being part of the team and winning a medal for my country was my first preference.
"I never dreamt of captaining the team and leading the side in the Olympics. It's a great honour."
Sreejesh has been a rock for India in front of goal since making the junior national team in 2004. It took him another couple of years to make the cut for the senior side.
He made crucial saves during the 2014 Asian Games final when India beat arch-rivals Pakistan, which sealed their spot for Rio. In 2015, Sreejesh received the Arjuna award for his contribution to the national team.
Sreejesh said the captaincy would not have a huge influence on his role.
"I am a goalkeeper. My first duty is to save the goal," he said by telephone from the team's training camp in Bengaluru. "The second is to communicate with my defenders and organise them.
"Third is I need to give them confidence as a goalkeeper. I think as captain too I have to do these three things. There is no extra burden on me.
"It's all about giving them the freedom to do what they want.
"Olympics is a place where you can be easily distracted to a lot of things and it will seem like a magic world. It will all be about reminding them our goal as a team."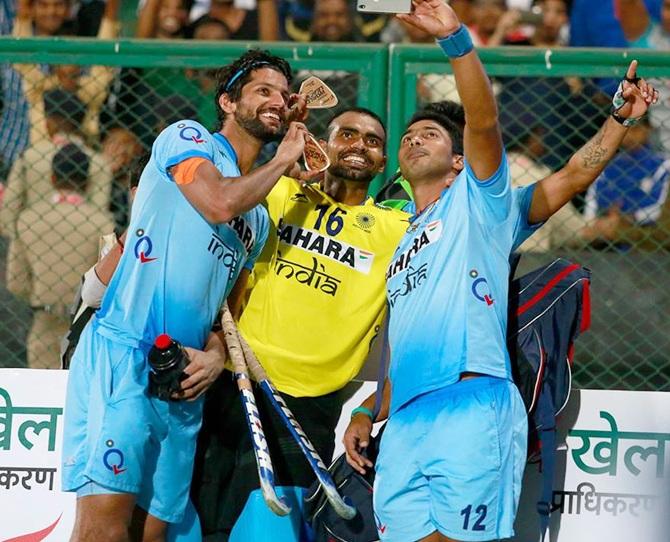 IMAGE: Rupinder Pal Singh, left, P Sreejesh, centre, and V R Raghunath celebrate. Photograph: Hockey India/Facebook.
India are the most decorated nation in the sport's Olympic history but the South Asians collected the last of their eight gold medals back at the Moscow Games in 1980.
After failing to qualify for Beijing, India made it to London four years later but finished last of the 12 countries taking part.
India, who are in Pool B in Rio along with Argentina, Canada, Germany, Ireland and the Netherlands, have created optimism back home thanks after a strong build-up to the Games.
Sreejesh feels India have the right balance between youth and experience, with a number of players from London 2012 still part of the mix for Rio.
Consistency will be the key, he added.
"The last couple of years has given us confidence. We have beaten all the top teams and won medals," he added.
"It has given us confidence that now we are ready to beat any team and we will carry that to Rio."