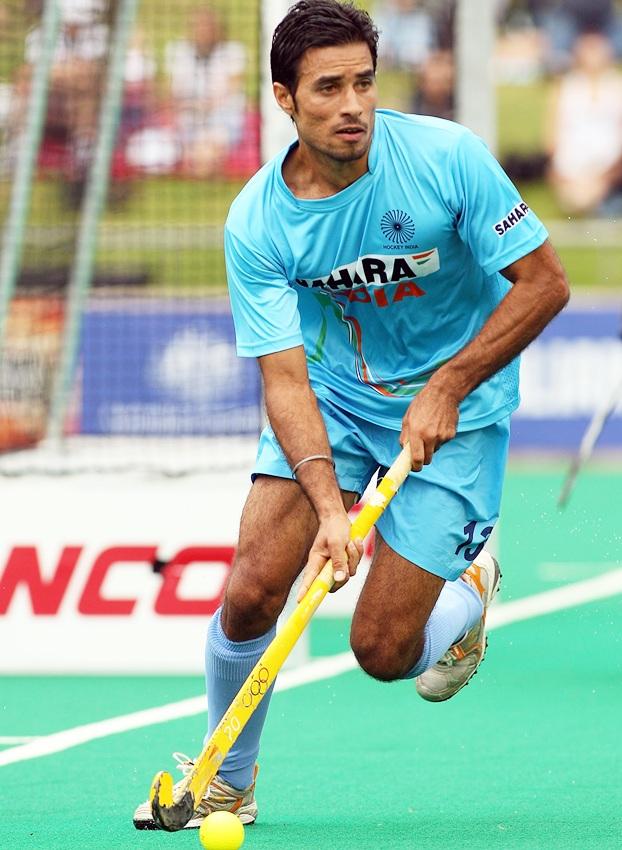 Gurbaj Singh in action during the match between Australia and India on Day 3 of the International Superseries at Perth Hockey Stadium on October 22, 2011 in Perth, Australia. Photograph: Paul Kane/Getty Images
The India midfielder was suspended for a brief period after the London Olympics following similar accusations by the then chief coach, Michael Nobbs, and his support staff
'He is a very good player but discipline is a must. Such charges were levelled against him after the London Olympics by Nobbs and other coaches. That time he was let off after he promised he will improve his behaviour'
Senior India hockey player Gurbaj Singh was suspended for nine months on Monday for allegedly indulging in groupism and creating disharmony within the team.
Hockey India's decision could shatter the experienced midfielder's dream of playing in next year's Rio Olympics.
The decision to suspend the player was taken after a meeting of Hockey India's disciplinary committee, headed by Harbinder Singh, with the midfielder and former India coach Jude Felix, who levelled the charges against him in his report after last month's Hockey World League semi-finals in Antwerp, Belgium.
Besides Harbinder, the disciplinary panel includes former players R P Singh, A B Subbaiah and Jasjeet Handa.
Gurbaj, however, has the option to lodge an appeal with Hockey India's appellate tribunal within a month.
Harbinder later said it was time to teach a lesson to Gurbaj, dubbed as problem child in Indian hockey, for his repeated misdemeanours.
"We have suspended Gurbaj for nine months starting today, which means he will be unable to play for India till May 9, 2016. The step was taken after Jude Felix in his (HWL) report had brought up disciplinary issues against Gurbaj," Harbinder said.
"Both Gurbaj and Jude were present in the meeting and the committee gave Gurbaj a chance to tell his version. But, obviously, he (Gurbaj) can appeal against the suspension," he added.
Felix, in his report, alleged that Gurbaj did not co-operate with the coaches and wasn't a good ambassador for the national team.
A talented midfielder and considered as a workhorse, Gurbaj has been in news for wrong reasons in the past as well.
He was suspended for a brief period after the London Olympics following similar accusations by the then chief coach, Michael Nobbs, and his support staff.
Harbinder hailed Gurbaj as a key player for India but said discipline is something that cannot be compromised upon.
"He is a very good player but discipline is a must. Such charges were levelled against him after the London Olympics by Nobbs and other coaches. That time he was let off after he promised he will improve his behaviour," he said.
The suspension, if not revoked, means Gurbaj's chances of playing in the Rio Olympics is bleak. Harbinder, however, begs to differ.
"The ban will end in May and if his appeal is upheld then he can return to the squad immediately. He is a very talented player and I don't think his Olympic dreams are over."
Gurbaj, on his part, termed the punishment "harsh" and said irrespective of the suspension, he will keep his focus solely on the game.
He also said that he will appeal against the suspension after talking to his family members, fellow-players and well-wishers.
"I don't know why such a report was given against me. I didn't do anything. During today's meeting, I cleared my position. But the punishment is little harsh," Gurbaj told PTI.
"I have 30 days' time to lodge my appeal and I will do that after discussing with concerned people. I am hopeful the suspension will be revoked," he added.
Told that if not revoked the suspension could mark the end of his dream of playing in the Rio Olympics, Gurbaj replied: "I don't think so. My focus has always been playing hockey and I will keep that going."