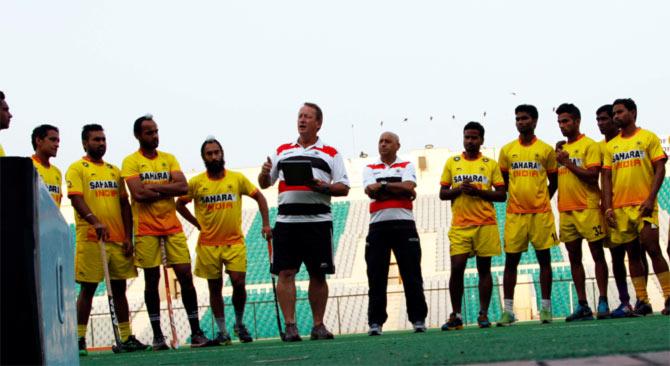 Terry Walsh (centre) speaks to the Indian hockey players. Photograph: Hockey India
Terry Walsh may have expressed a desire to again take up the Indian coaching job, but Hockey India on Tuesday made it clear that it doesn't require the services of the Australian any more.

Hockey India's response came just after Walsh, who recently quit from his position as the chief coach over differences with the federation and Sports Authority of India (SAI), had expressed willingness to return to India provided the administrators show some "desire" to work out a "viable solution".

"Hockey India now does not require the services of Mr Terry Walsh and will look for a new chief coach with approval of SAI," Hockey India president Narinder Batra said in a letter addressed to the SAI Director General Jiji Thomson.

Batra had recently alleged that the Australian coach was involved in financial impropriety during his tenure with USA Field Hockey.

"We have received a mail from Hockey USA as confidential and as per that mail the issue of financial irregularity by Mr. Walsh in USA is not settled even as of today, hence his contention that his issue with USA was settled in 2012 is false and incorrect," he said.

"Further Mr. Terry Walsh through press and media has been threatening to file legal cases. Mr. Walsh has been given sufficient time to clarify on the financial irregularity issue and he instead tried to beat around the bush. Hockey India now does not require the services of Mr. Terry Walsh and will look for a new chief coach with approval of SAI," added Batra.

The Hockey India boss said Walsh is trying to portray himself as a martyr.

"Regarding his showing commitment for players, I had in presence of Hockey India CEO and Mr. Oltmans offered full salary for one month after November 19 to Terry Walsh to stay on with the Indian team till Champions Trophy (but this was prior to the issue of USA Hockey coming to our notice) and he refused to stay back till SAI agreed on his 120 days paid holiday in Australia and at that time he showed no concern for the Indian team, now he wants to project himself as martyr before the media and Hockey India a villain.

"We would very kindly request your good self to forward our mail to Hon'ble Minister as Hockey India views on Mr. Terry Walsh's re-employment for hockey in India," Batra wrote.

Earlier in the day, Walsh said that he had written to the Sports Minister Sarbananda Sonowal on Monday, expressing his desire to resume his India job, but said the ball is entirely in the national federation's court.
© Copyright 2021 PTI. All rights reserved. Republication or redistribution of PTI content, including by framing or similar means, is expressly prohibited without the prior written consent.