Chief coach of the Indian men's hockey Michael Nobbs said on Tuesday he wasn't "pushed out" but willingly resigned from the job owing to deteriorating health.
Nobbs's contract as chief coach of the Indian team was terminated on Monday because of non-performance. He thus became the fourth foreigner to be shown the door before completion of his full tenure.
The Australian, though, maintained he quit the job on his own terms.
"I wasn't pushed out by Hockey India or Sports Authority of India. This (to resign) is my own decision," Nobbs said.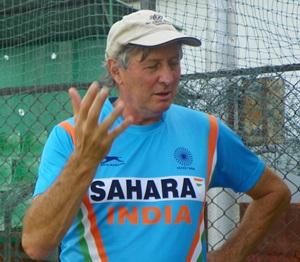 "I love Indian hockey too much that I don't want to hurt it. But I just couldn't cope any longer with deteriorating health. So I thought not to coach anymore.
Also read: 'Nobbs should have been shown the door after London Olympics'
"My health was too difficult for me to continue. I don't want to hurt the system. I don't want to be selfish because it would take at least six months to get my health back," he added.
Nobbs's contract was terminated almost three years before it was to expire. Roelant Oltmans, who is currently High Performance manager, has been given charge of the team until a new coach is appointed.
Before Nobbs, Spaniard Jose Brasa, Australian Ric Charlesworth and Germany's Gerhard Rach coached the Indian side.
Nobbs said his health continued to deteriorate with every passing day.
"My health wasn't too good. I had quite a bit of trouble in Holland during the first trip earlier this year. I passed out a few times from January onwards. I had noticed things were getting worse, deteriorating pretty badly," he told Times Now.
"I spoke to Roelant Oltmans on the last tour to Holland (during last month's FIH World League Round 3 in Rotterdam) and said I wasn't coping well health wise. I am struggling," Nobbs said.
Image: Michael Nobbs
Photograph: Laxmi Negi/Rediff.com