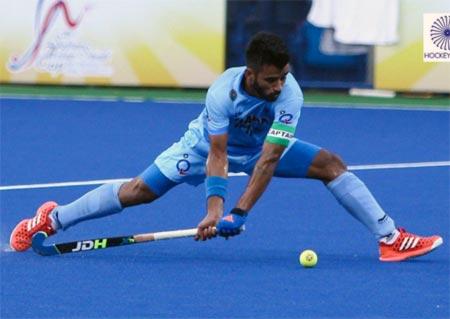 Hosts Germany overpowered India 2-0 in an action-packed encounter to end its campaign at the Three Nations Invitational hockey tournament on a winning note, in Dusseldorf, on Tuesday.

So far, Germany have had mixed results, starting with a 2-5 defeat against Belgium in their first game, before drawing 2-2 against India followed by a 2-1 win against Belgium.

They finished with seven points while India earned four points in the league stage.

Though India began well and won a penalty corner as early as the second minute of the match, the German defence was too good to break for young dragflicker Harmanpreet Singh who had scored a double in India's 3-2 win against Belgium on Monday.

Germany, bronze medallists at the Rio Olympics, showcase an improvised execution of attack and ball possession to take early control of the match.

They came up with different variations to make space in the striking circle and found success with Thies Ole Prinz perfectly deflecting the ball into the post in the seventh minute to take Germany's score to 1-0.

Though they earned a penalty corner seconds before the first hooter, Germany couldn't convert the shot as India keeper Akash Chikte came up with a good save.

India played the second quarter patiently, rotating the ball between themselves and waiting for an opening in the German defence.

After several circle penetrations, India bagged their second penalty corner of the game in the 29th minute. The opportunity went amiss though and the first half ended with a 1-0 advantage to Germany.

After a goalless third quarter, India continued to stand up to the German challenge, getting closer each time to finding a breakthrough. An opportunity came by with a little over three minutes left for the final hooter when India won another penalty corner but Harmanpreet Singh's fiercely struck flick was kept out by the German goalkeeper.

India pulled out their goalkeeper to play with an extra attacker but could not materialise. Germany, meanwhile, succeeded in pumping their second goal in the 60th minute, thanks to Timm Herzbruch.
Image: India midfielder Manpreet Singh.
Photograph courtesy: Hockey India/Twitter