Dennis Meredith, a former Competitions and Events Manager and currently member of the FIH's panel of Tournament Directors, has been appointed Technical Director for the upcoming US $2 million prize-money World Series Hockey.
One of the most experienced tournament managers in the game, Meredith has been associated with global hockey events, including Olympic Games, World Cups, Champions Trophies, Commonwealth Games and Champions Challenges.
According to a statement from World Series Hockey on Tuesday, the 65-year-old former Australia player and international umpire has also been appointed as Technical Director for the forthcoming Oceania Cup (the Oceania qualifying tournament for the Olympics) -- to be played in Hobart in early October.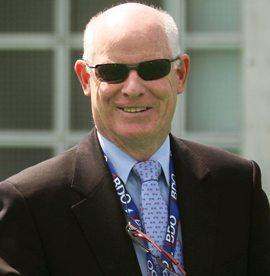 As Technical Director, he will be responsible for all the "hockey" elements in WSH, a joint initiative of Nimbus Sports and the Indian Hockey Federation, which will be held from December 15, 2011 to January 22, 2012.
His duties include planning and structuring of all the technical aspects, implementation of the rules and regulations as per international standards, staffing and training of match officials, besides liaison with the technical committee and franchises.
"I am proud to be associated with World Series Hockey and am looking forward to the inaugural multi city franchise-based League. My association with India has been ongoing since I first visited as an umpire in 1982 and since then have worked and overseen multiple large scale hockey projects here," said the Aussie, about his appointment.
"The League has a lot to offer to the players and hockey enthusiasts and I am extremely confident of its success," added Meredith, who played in 22 internationals for Australia and was responsible for the coordination of hockey events at the Athens and Beijing Olympics.
"The proven expertise that Dennis brings to the table is unparalleled and his appointment is in keeping with our commitment of delivering a world class event to hockey fans across the globe," said Yannick Colaco, COO of Nimbus Sport.
WSH will see 176 leading Indian and international players showcase their talent in 61 matches.
The tournament is a multi-city franchise-based League with players being allocated to the teams based on the internationally accepted and practised 'draft' system.
The inaugural edition will comprise eight teams with matches across as many cities, six of which are Delhi, Punjab, Mumbai, Chennai, Hyderabad and Bangalore.
The remaining slots will go to two out of Bhopal, Pune, Rourkela, Ranchi, Manipur, Lucknow and Kolkata.
The top Indian players who will be seen in action are Rajpal Singh, Sandeep Singh, Adrian D'Souza, Sardara Singh, Prabhjot Singh, Arjun Halappa, Diwakar Ram, Bharat Chetri, Dhananjay Mahadik, Shivendra Singh, Mandeep Antil, S V Sunil, Roshan Minz, William Xalxo and Prabodh Tirkey.
Pakistan's Rehan Butt together with teammates Zeeshan Ashraf, Mudassar Ali, Tariq Aziz, Adnan Maqsood, Waseem Ahmad, Syed Imran Warsi and Shakeel Abbasi have also signed up to play.
The event, however, is not sanctioned by the FIH.