Playing better and with solid purpose this clay court season, Rafael Nadal is looking to win his 10th title at Roland Garros, says Desh Chopra Gaurav Sekhri, and will ask some difficult questions of anyone he is pitted against.
IMAGE: Rafael Nadal, nine times the French Open champion. Photograph: Matthew Lewis/Getty Images
The 2016 French Open at Stade Roland Garros gets underway on May 22, and on the men's side, history is bound to be made.
Predictably, Novak Djokovic enters the tournament as a favourite to win and end his drought on the clay courts of Paris.
But, unlike at any other tournament on the tour calendar, he enters the French Open only as a slight favourite, not nearly the overwhelming favourite he is accustomed to being elsewhere.
The chief cause for this is his previous run of futility and near-misses, exacerbated by his unlikely loss in the finals last year to the surprising Stanislas Wawrinka who bulldozed Djokovic in a massive upset for the title.
Wawrinka's stunner altered the course of history in 2015, as he was the only one to prevent a calendar grand slam for Djokovic, one that had seemed preordained given how well he was playing, and how completely he was dominating.
Last year, having easily beaten Rafael Nadal -- the greatest clay court player of all time -- in the quarter-finals, there was very little in the way of Djokovic both ending his Roland Garros failures, and marching towards a calendar slam unopposed.
Wawrinka conquered, and what might have been Djokovic's best-ever chance to win the French may have passed him by.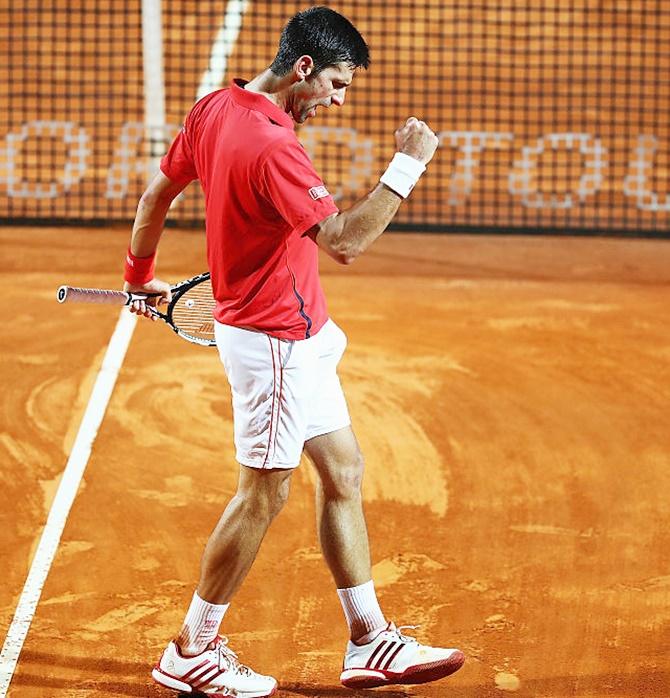 IMAGE: Novak Djokovic is still chasing his first win at Roland Garros. Photograph: Matthew Lewis/Getty Images
In 2016, although he has again dominated the rest, losing just three matches all year, Djokovic comes in with significant opposition to his quest.
Nadal is back almost to his prime, and although Djokovic beat him in the Rome quarter-finals last week, Nadal acquires a halo of sublimity when he plays at Roland Garros, and this year unlike last, he is a legitimate contender and then some.
Andy Murray shocked everyone including himself at Rome when he stunned Djokovic in the final, in an extremely lopsided match that showcased Djokovic's vulnerability on red clay.
There are others too who can play spoilsport -- Kei Nishikori, Nick Kyrgios, and Frenchmen Gael Monfils, Jo-Wilfried Tsonga, Gilles Simon and Jeremy Chardy to name a few.
Roger Federer, with his run of bad luck and frequent injuries, pulled out late Thursday evening, and likely changed the entire dynamic of the tournament.
His withdrawal means Nadal will now be seeded fourth, and won't have to play Djokovic or Murray as the case may be, until the semifinals, giving him time to acclimatise and settle in.
But when the dust settles there will be only a few who could make a serious run at winning it all and stopping Djokovic from his quest for immortality.
Wawrinka is having a terrible clay court season thus far, losing as much as he has won (3-3) at the time he enters his final tune-up at Geneva. But he is the kind of player who can catch fire because of the nature of his game -- massive, fearless, go-for-broke hitting -- and can beat a string of more authentic favourites to lift the trophy yet again.
Murray is a less bankable opponent to threaten Djokovic at the French Open, especially in the finals, which is where they could meet.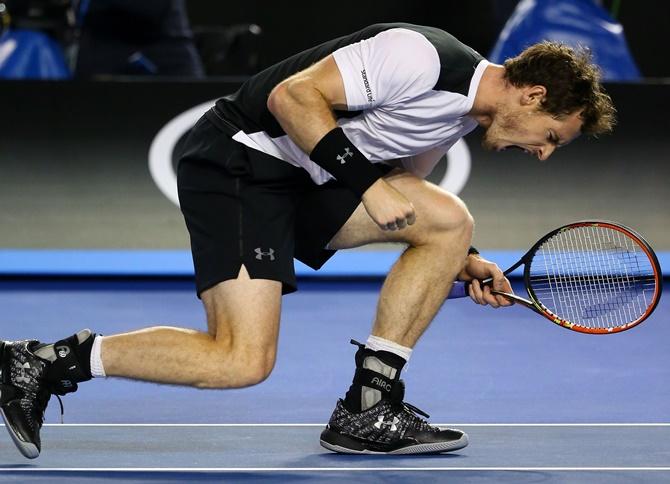 IMAGE: Andy Murray is a less bankable opponent to threaten Djokovic at the French Open. Photograph: Quinn Rooney/Getty Images
Coach-less and playing with more freedom than before, Murray could spring a few surprises but his success against Djokovic, especially in Grand Slams, has been less than impressive. So, barring a dramatic run where he overcomes many of his demons, Murray could go deep into the tournament but struggle to win it all.
And that leaves just the king and the man who would be king in the French Open hierarchy. Playing better and with solid purpose this clay court season, Nadal is looking to win his tenth title here, and will ask some difficult questions of anyone he is pitted against.
Perhaps more aware than we realise that this year's French Open is the soothsayer for his future in tennis, Nadal will gauge his ability to compete effectively against the best in the world on his home ground, and decipher the cost-benefit of subjecting his body to such rigour going forward.
He will fight like it's his last stand, and that will make him so dangerous against anyone he faces.
Djokovic has a stern test ahead of him. He may be the favourite, but Nadal is the incumbent king of Roland Garros.
Spoilers or not, history will be redefined at Roland Garros this year.
Desh Gaurav Chopra Sekhri is a sports lawyer and author of the book Not Out! The incredible story of the Indian Premier League