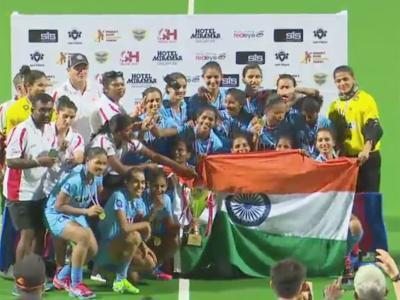 The Indian women's hockey team lifted its maiden Asian Champions Trophy title with a thrilling 2-1 win over China in the final, in Singapore on Saturday.
Deepika slotted the winner through a rebound from a penalty corner in the 60th minute to give the Indians a memorable victory.
Deep Grace Ekka give India the early lead, converting a penalty corner in the 13th minute, before China equalised in the 44th through a field goal from Zhong Mengling.
The welcome result for the Indian women's team comes days after the men's beat Pakistan to reclaim the Asian Champions Trophy in Kuantan, Malaysia.
India's best finish in the Women's Asian Champions Trophy came in the last edition in 2013 when they finished runners-up to Japan. They had finished third in the inaugural edition in 2010.
Having learnt from their group stage encounter, India refused to let China take early control of the ball, closing them down high up the pitch, often intercepting their passes and constantly putting pressure by hunting in packs.
When in possession, the Indian eves held their nerve and passed the ball around neatly to penetrate China's circle.
This slightly different approach to their game compared to Friday helped them earn India's first PC of the game in the 13th minute.
An innovative set-piece saw Deep perfectly send the ball past the Chinese keeper for the early lead.
Going into the second quarter, India kept up the pressure by playing disciplined hockey, keeping their calm only to deny the Chinese a chance to equalise.
However, the third quarter saw China's Mengling Zhong penetrate the Indian circle to score a quick field goal. But the Indian eves were unrelenting and were playing the kind of hockey that had China on the back-foot.
China managed to earn their first PC of the match in the third quarter but failed to convert, sending the ball way off the baseline.
Though fortunes changed hands by the minute, neither team dropped the intensity going into the fourth quarter. For India, it was Rani who was acting like a lynchpin, attempting to penetrate the Chinese D to earn a PC and she found a chance with just minutes left before the final hooter went off.
It was a do-or-die situation for India and it was their best chance to score. Deepika, the highest goal-scorer of the tournament took the onus upon to herself to convert a sensational goal with just 30 seconds to go for the final hooter, sending the Indian supports into bursts of cheers.
Hockey India then announced a cash award for Rs 1 lakh for Deepika as well as a cash prize of Rs 2 lakh each for the triumphant players and chief coach Neil Hawgood.
Besides this, the federation also announced Rs 1 lakh for the other support staff.
Image: The victorious Indian women's hockey celebrate their Asian Champions Trophy triumph on Saturday
Photograph: Twitter