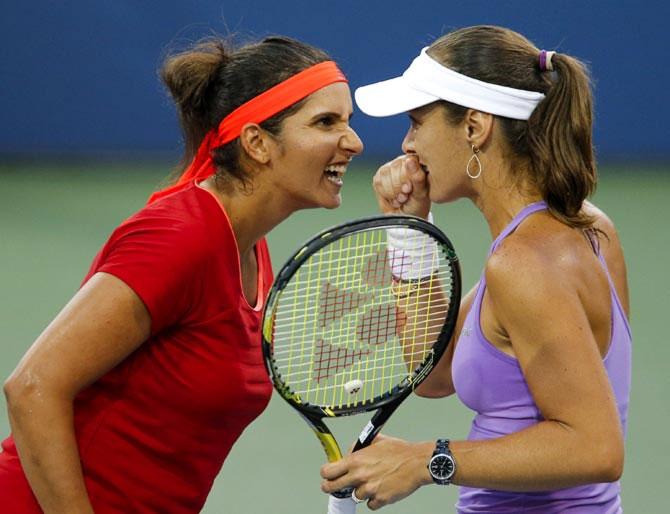 IMAGE: Sania Mirza (left) and Martina Hingis discuss strategy between points. Photograph: Eduardo Munoz/Reuters.
Swiss tennis great Martina Hingis has joined her Indian partner Sania Mirza at the top of the women's doubles rankings, a day after the duo won its second title of the season in Sydney.

With 11395 points, the 35-year-old Hingis joined Mirza at the top in the latest WTA rankings released on Friday.

Sania and Hingis' awe-inspiring run continued unabated as they lifted their second trophy of the season with the WTA Apia International title after clinching their 30th win in a row.

The development acts as a major boost for the the US open and Wimbledon champions ahead of the Australian Open starting January 18.

The triumph at Sydney was the Indo-Swiss combination's 11th trophy since coming together around a year ago.

Hingis had spent 35 weeks at the top of the doubles ranking earlier in her career. Her reign as the world number one came in six stints.
She will now begin her 36th career week at the top, while Sania earns her 41st.

"It's a really nice feeling having that No.1 ahead of your name. It's definitely something I was aiming for, and with Sania I felt like I had the opportunity to get there.
"When she became No.1 in Charleston I was just as happy as when I did it myself," Hingis was quoted as saying by WTA.

"Being the No.1 team for the last 10 months -- we've proven it with two Slams and the WTA Finals in Singapore – we definitely belong there. It was just a question of time to get that No.1 ranking.

"I'm so happy for her that 16 years later she's become No.1 again!" Mirza, who first rose to No.1, last April, commented.
"But regardless of what the ranking was, we were the No.1 team in the world. I'm so happy that we're together now not just as the No.1 team, but as individuals as well."