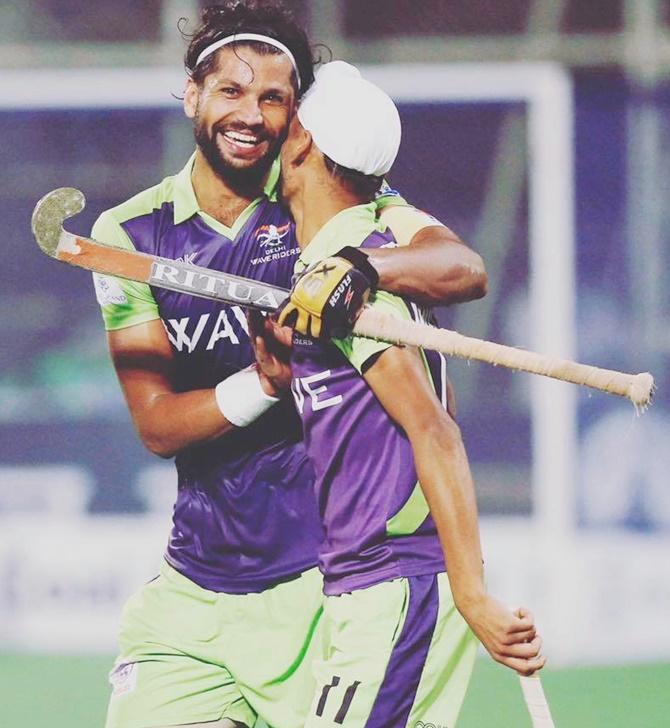 IMAGE: Rupinder Pal Singh celebrates. Photograph: HIL/Facebook
Crucial goals by Rupinder Pal Singh and Simon Child in the dying minutes of the match saw Delhi Waveriders get past the dangerous Kalinga Lancers with a 6-4 win here at the Coal India Hockey India League, in New Delhi, on Sunday.
While a win for the Kalinga Lancers tonight would mean that they would almost certainly confirm their spot in the semi-finals in Chandigarh on February 25.
Delhi Waveriders vied for their second win in the league to keep their hopes intact to stay in contention and the home team did not disappoint as they came up with an inspired performance ensuring a strong start to put pressure on the visitors.
Kalinga Lancers' keeper Abhinav Kumar Pandey was kept busy at the post early in the game, thanks to the heroics of Mandeep Singh who worked in tandem with junior India team-mate Santa Singh to put pressure by finding gaps in the circle, creating chances at scoring in the initial minutes of the game. They handed an early blow to the visiting team when Talwinder Singh played one-to-one with Simon Child before he could take the strike at the post. The ninth minute goal put them in a bold 2-0 lead.
In the 24th minute, Mandeep earned yet another PC for the home side but Justin Reid-Ross's attempt was denied. Though Kalinga Lancers won their first PC with just two minutes to go for the first-half, they failed to convert it.
But the Delhi Waveriders rallied to work a set piece almost immediately when they earned three back-to-back PCs in the 29th minute.
Justin Reid-Ross fired the ball away to the keeper's left to extend their home advantage to finish the quarter with a 3-0 lead.
In the 40th minute when Moritz Fuerste came up with an inch-perfect dribble into the circle only to find an unmarked Dharamvir Singh who made no mistake in sending the ball past Delhi Waveriders' keeper Vincent Vanasch. The field goal helped the visitors narrow the deficit to 2-3.
The final quarter witnessed nail-biting action keeping the dynamic Delhi crowd on the edge of their seats. Though Delhi Waveriders did well with their defence to retain the lead, the dangerous Moritz Fuerste could not be stopped in the 54th minute when he was brilliantly assisted by Amit Rohidas that saw him beat Vincent Vanasch to earn a crucial 4-3 lead.
But skipper Rupinder Pal Singh spoiled the Kalinga Lancers party when he converted a PC in the 57th minute to equalise the score to 4-4. The action didn't end there when Simon Child was successful in converting a field goal after he was set up by Mandeep Singh to hand the home team a 6-4 victory.