A last minute goal by Gonzalo Peillat helped Uttar Pradesh Wizards hold Kalinga Lancers to a 2-2 draw in a thrilling match of the Hockey India League in Lucknow on Friday.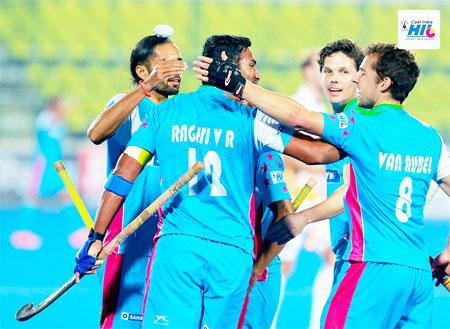 Peillat struck the equaliser for Uttar Pradesh Wizards in the 60th minute as the match ended 2-2 draw and the two sides splitting points.
It was a dramatic first quarter with the Uttar Pradesh Wizards, nudged by the support of an energetic home crowd, got off to a rollicking start living up to the attack posed by Kalinga Lancers.
Forward Akashdeep Singh showed class when he beat defender Amit Rohidas into the circle after a good assist by V R Raghunath to earn his team's their first penalty corner. However, the powerful drag-flick by skipper Raghunath was brilliantly saved by goalkeeper Andrew Charter.
But the Uttar Pradesh Wizards were quick to win another penalty corner, thanks to the team work by Akashdeep and Ramandeep Singh, in the 15th minute and this time Raghunath was impressive with an inch-perfect flick that landed in the top centre of the net like a lighting.
The 1-0 lead, however, lasted only a couple of seconds with the visitors winning their first penalty corner with less than six seconds for the quarter to end. This time, it was Arthur van Doren who was guilty of a foul that eventually saw the German Moritz Fuerste convert the goal to equalise.
The visitors rallied back into the second quarter, getting off the block at a frenetic pace with their attack and it paid off with a penalty corner earned in less than a minute into the quarter.
P R Sreejesh, Uttar Pradesh Wizards' experienced goalkeeper, dented Moritz's plans of taking a lead as he padded the speeding ball of the German who took the flick again. Though the visitors won their third penalty corner in this quarter, a miss-trap denied them yet another chance at taking the lead and ending the first half at 1-1.
It was a nerve-wracking final quarter. India's number one goalkeeper Sreejesh continued to be impressive keeping the Kalinga Lancers at bay. It was evident that the home team was desperate for the winners' points that would secure them a semi-final spot.
But the Kalinga Lancers were resilient. Germany star Moritz was incredible with his efforts when he converted a penalty corner in the 51st minute after Lalit Upadhyay won his team this opportunity at taking a lead.
The game got dramatic in the dying minute when a video referral was upheld for the Uttar Pradesh Wizards fetching them a penalty corner. A perfect injection by Agustin Mazzilli saw his Argentine teammate Gonzalo Peillat convert the goal in the 60th minute to hand a 2-2 draw, sending the dug-out and the stadium into jubilation.
Image: Players celebrate a goal
Photograph: HIL/Twitter