Dabang Mumbai made a splendid recovery from 0-4 down to draw level with Kalinga Lancers before a timely field goal by the visitors buried their hopes of a maiden win as they went down 4-6 in a Hockey India League match (HIL) in Mumbai on Sunday.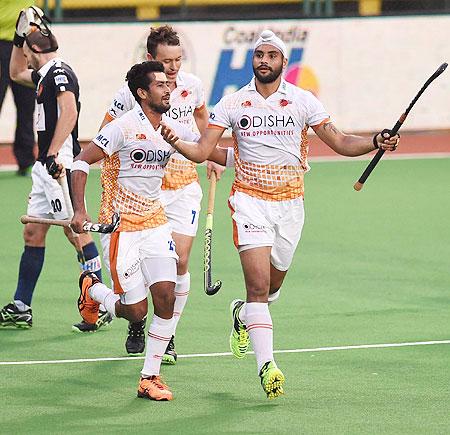 Wasting scores of chances, including from the field and off penalty corners, Mumbai let in two penalty corner goals from Gurjinder Singh and Adam Dixon to trail 0-2 at half-time.
Later a brilliant field goal, which is counted as two, from Lalit Upadhyay saw Lancers lead by a big 4-0 margin in the third quarter.
Mumbai then rode on successive field goals from their star German striker Florian Fuchs and Gurjant Singh, in the third and in the fourth quarter, to level the scores.
However, Mumbai allowed Quirijn Caspers a free run by going on an all-out attack to score the match-winner only to concede a costly field goal in the 55th minute to trail 4-6.
Despite making some desperate efforts in the closing stages, the hosts could not draw level and went down to their fourth loss in as many matches.
Lancers, on the other hand, recorded their third win from five games.
Mumbai will take on defending champions Ranchi Rays in their next home game on February 3 while the Lancers will clash with Delhi Wave Riders in their home venue, Bhubaneshwar, on February 5.
Image: Kalinga Lancers players celebrate a goal against Dabang Mumbai during their Hockey India League match in Mumbai on Sunday
Photograph: Shashank Parade/PTI