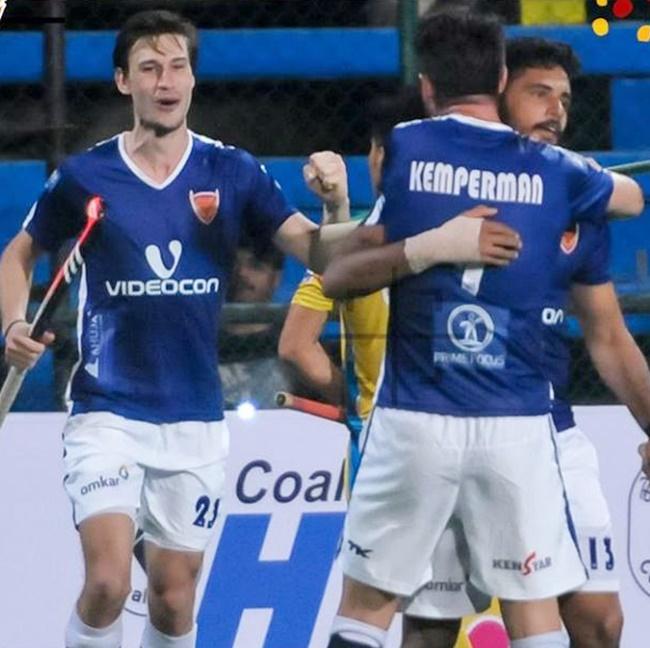 IMAGE: Dabang Mumbai players celebrate. Photograph: Facebook.
Skipper Florian Fuchs and striker Affan Yusuf struck a brace each as Dabang Mumbai thrashed defending champions Jaypee Punjab Warriors 10-4 to register their second win in the fifth season of the Hockey India League (HIL), in Mumbai, on Friday.
The fifth goal for the winners came from India international Nikkin Thimmaiah.
All the seven goals which were scored in the game were field goals, which give a team two points.
In the opening minute of the match, a reserve flick by SV Sunil for the Punjab team was brilliantly saved by goalkeeper David Harte. The two sides continued playing an aggressive brand of hockey for the next four minutes with attacks and counter attacks.
But it was Nikkin Thimmaiah, who put the hosts in the lead, by scoring a field goal off a rebound after the flick by Emmanuel Stockbroekx, was saved by Warriors goalkeeper Clemons Tristan. Thimmaiah made the most of the opportunity and put the hosts up 2-0.
In the 13th minute, Australian Matt Gohdes, ran in from the half and beat Mumbai defender Harmanpreet Singh before dragging the ball past goalkeeper David Harte to score a magnificent field goal and level the scores 2-2.
In the 26th minute, Mumbai failed to convert their and the match's first penalty corner. The Punjab team, who a minute later got their first penalty corner, also failed to convert it even as the Mumbai supporters vociferously cheered for the home team.
With just a few seconds remaining for the half time, German striker Fuchs, one of the leading players in the globe, on a pass by Dutchman Robbert Kemperman scored a field goal by an outstanding reverse hit, which beat opposition goalkeeper, taking the hosts ahead 4-2.
In the fourth and the last quarter, it was show by stirker Affan Yousuf, who in two minutes scored 2 quick goals making it 10-4 and almost impossible for the visiting team.
Unlike the last match against the UP Wizards, when Dabang Mumbai scored a come from behind 4-3 victory, this time they dominated from the first minute itself literally and gave no chance to the opposition.