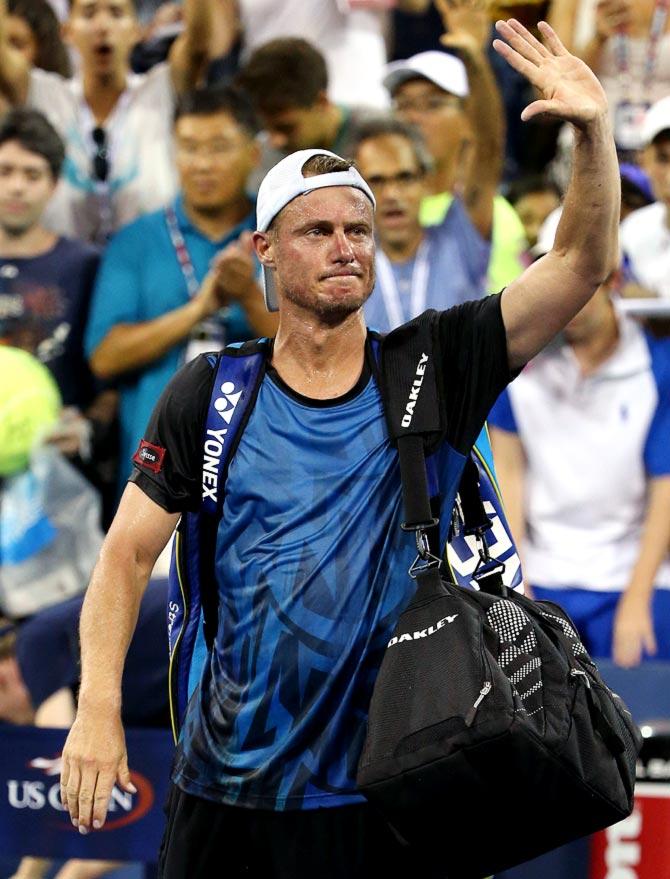 IMAGE: Lleyton Hewitt waves to the crowd after losing his second round match. Photograph: Streeter Lecka/Getty Images
Lleyton Hewitt waved goodbye to the US Open on Thursday, the tenacious Australian dragged kicking and screaming to the Flushing Meadows exit by countryman Bernard Tomic.

A player who constructed a career around a relentless fighting spirit that became his calling card, Hewitt was never going to leave the US Open without a struggle and went down swinging until the very end, falling 6-3, 6-2, 3-6, 5-7, 7-5.

"I left it all out there again," said Hewitt, a two-time Grand Slam winner. "A great atmosphere, it was nice to be able to turn it into a decent match."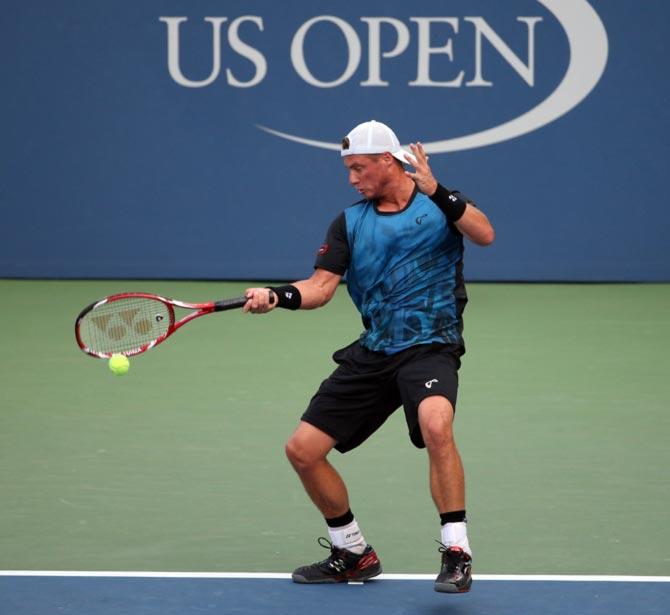 IMAGE: Lleyton Hewitt in action. Photograph: Streeter Lecka/Getty Images
Set to retire after next year's Australian Open, Hewitt may have lost a step and his groundstrokes are not as ferocious as they once were but the 34-year-old showed he has lost none of his combativeness during an enthralling three hour, 27 minute second round slugfest.

Hewitt gave Tomic, and the other young Australian players who have made headlines for all the wrong reasons in recent weeks, a demonstration of what it takes to be a winner, battling back from two sets down to give his fans one final thrill.

"I'm just very competitive. I pride myself on getting the most out of myself," said Hewitt, who is set to take over as his country's Davis Cup captain and already taken on a mentoring role for some of Australia's young players.

"I was able to somehow find a way. That's what I've been renowned for in my career.

"If I can instill a little bit of that especially into the three promising young guys on the way up, you know, with their games and the weapons they have, then that's just another positive for them."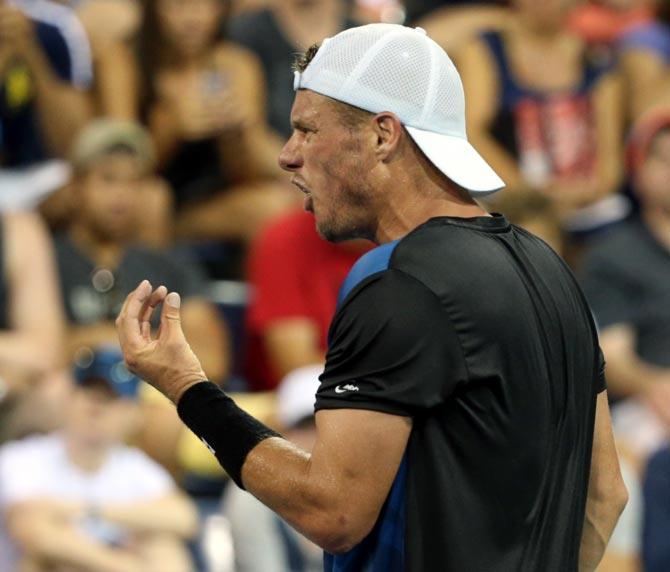 IMAGE: Lleyton Hewitt reacts during his second round match. Photograph: Streeter Lecka/Getty Images
Playing on the grandstand court in the shadow of the Arthur Ashe Stadium where he won the 2001 US Open final against Pete Sampras, Hewitt arrived ready for work sporting a no-nonsense expression and his trademark backwards baseball cap.

While Hewitt's will to win remains intact, his skills have dulled, unable to convert two match points when leading 5-3 in the fifth to seal what would have been a fairytale victory.

"I knew from the point when he was coming back, it was not going to be easy because I kept thinking about watching his matches in the past, how he got out of them," said Tomic, who moves on to meet 12th seeded Frenchman Richard Gasquet.

"It is so difficult playing him. I was very, very nervous when he led 5-3 in the fifth.

"He is a huge legend to me. I always looked up to him. I am sure a lot of people think he is a great legend, not just myself, so for me it was a privilege."