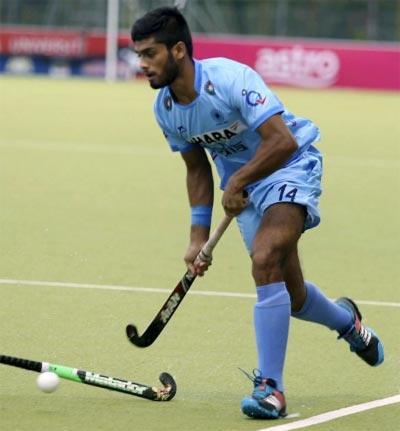 Hermanpreet Singh did the star turn with a hat-trick of goals as India enhanced their chances of qualifying for the final of the Under-21 Sultan of Johor Cup with a convincing 4-2 victory over hosts Malaysia, in Johor Bahru, on Thursday.
In top form after thrashing Pakistan 6-0 on Wednesday, the Harjeet Singh-led side notched its third win in four games.
India, though, had some tough moments in the game after the hosts overcame a 2-0 deficit to draw level after half-time.
But two late strikes saved the day for the Harendra Singh-coached side.
The teams wasted their respective penalty-corner chances at the start but India soon forced three more penalty-corners to get a goal through Hermanpreet Singh off the last one in the 25th minute.
Two minutes later Hermanpreet punished Malaysia again with another drag flick into the roof of the net.
Malaysia then struck back to reduce the deficit in the 37th minute as Sufi Ismat Rohulmin went past two defenders and sent a reverse stick shot into goal.
The goal acted as a booster as Azril Misron levelled the score with his 42nd minute strike through a beautiful right cross from Norsyafiq Sumantri.
But Hermanpreet proved his ability in penalty-corners as he scored India's third and his hat-trick goal in the 55th minute.
India were then awarded a penalty stroke in the 65th minute and Varun Kumar put the result beyond doubt, making it 4-2.
Commenting on the victory, coach Harendra said, "I am extremely pleased to see the way the boys have performed today. Starting off well, they conceded two quick goals in the second half but did not allow pressure to take hold of them and remained calm. This composure helped the boys to make a brilliant comeback, the result of which is this well-deserved win for them.
"I am proud of the way they handled the stressful situation and look forward to similar performances in future."
India next take on Australia on Saturday and victory will seal the team's final berth.
Image: India under-21 vice-captain Imran Khan