'People need to appreciate that, at least there are people who are real in this world like him'
Manchester United striker Romelu Lukaku defended Jose Mourinho's confrontational style of management, saying that the Portuguese deserves respect for not hiding his true feelings like several Premier League bosses.
Mourinho has had strained relationships with some of his players at the club since taking charge in 2016, most notably with record signing Paul Pogba, but Belgian Lukaku said he preferred the manager to be honest.
"People need to appreciate that, at least there are people who are real in this world like him. Because most managers in the league, when they are not happy they try to find a way to seem happy," Lukaku told the BBC.
"You should respect that he wants to keep his personality and not shy away from confrontation. He wants us to improve. He's a normal guy... he's cool with everybody."
Lukaku suggested that players had to toughen up in the face of criticism and respond with better performances.
"Sometimes footballers, we get soft. If I listen to players from back in the day and now, a manager cannot say what he wants to a player because you feel attacked," he added.
"But I don't feel attacked, because that's who I am - I am a tough man, but that doesn't come from football, that comes from my background."
"My relationship with him (Mourinho) is cool. He makes me laugh, he makes the players laugh, he's a real family guy. He fights for his players, but he's real."
United, who are 10th with six points from four matches, will look to end Watford's perfect start to the campaign when they travel to Vicarage Road on Saturday.
Mourinho blasts pundits with barrage of Rashford statistics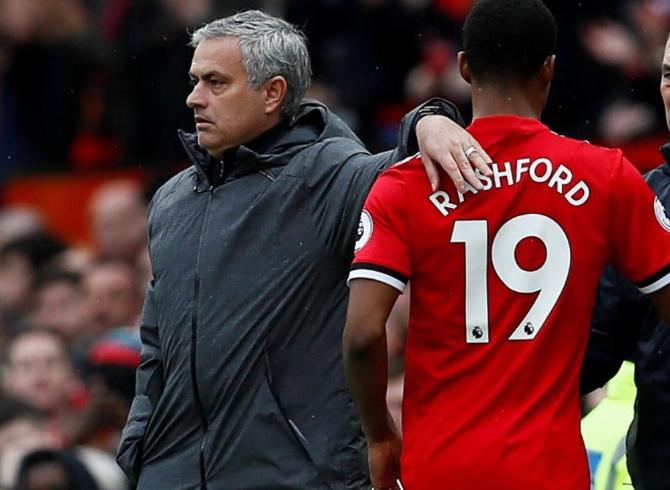 Manchester United manager Jose Mourinho blasted his critics with a barrage of statistics on Friday to defend the amount of playing time given to England striker Marcus Rashford over the past two years.
Some pundits have expressed concern that the 20-year-old, who has scored twice for his country in the last two internationals, is not starting in the Premier League with Romelu Lukaku United's regular target man.
The youngster has played 122 minutes in the top flight so far this season, with one start, and is banned for Saturday's game at Watford after being sent off in the last game at Burnley.
Mourinho said he wanted to set the record straight even if 'obsessed' people, who had "a problem with some compulsive lies", would criticise him anyway.
"I can imagine on Sunday I am going to be criticised for not playing Marcus but is not my fault, he's suspended," said the Portuguese, before embarking on an extended monologue to set out the numbers for those who were "a bit confused".
"In 2016-17: Marcus Rashford played 32 Premier League matches, 11 Europa League matches, including the final, three FA Cup matches, six League Cup matches, including the final, and the Community Shield," he said.
"He had 53 appearances, but if you want to take the minutes of play, he played 3,068 minutes and if you want to divide that by 90 minutes of the matches, he played 34.2 matches of 90 minutes in '16-17.
"In 2017-18, he played 35 matches in the Premier League, eight in the Champions League, five in the FA Cup including the final, three League Cup matches and the European Super Cup final.
"He played a total of 52 matches with 2,676 minutes, if you divide that by 90 it gives 29.7 matches. So with me, in two seasons, he had 105 appearances, 5,744 minutes, 63.7 matches of 90 minutes, including five finals."
Mourinho said Rashford could not be compared to other young England players like Liverpool's Dominic Solanke, Chelsea's Ruben Loftus-Cheek and Everton's Dominic Calvert-Lewin when it came to minutes played.
Rashford, he said, had played "an incredible number of appearances and minutes" at the highest level in the best possible competitions.
"Since I was here, he was never one day out of selection because of my decision, only if injured or suspended...so he knows and that's the most important thing," he added.
"(It) is very important Manchester United supporters know the truth, that's why I'm going so specific about these numbers."