'It is not acceptable, the ball was unacceptable for a high-level competition'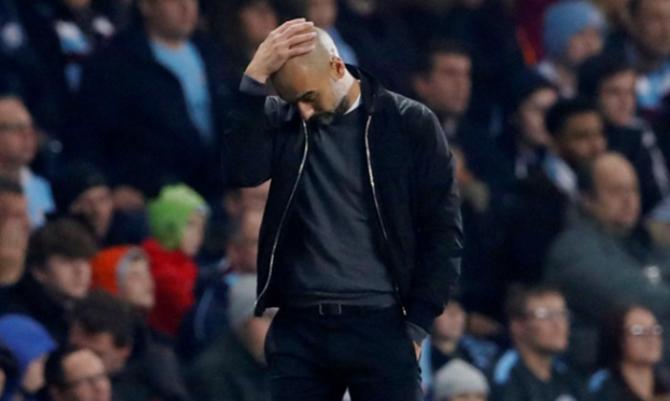 IMAGE: Pep Guardiola reacts. Photograph: Lee Smith/Reuters
Manchester City manager Pep Guardiola has criticised the weight of the match ball used in the League Cup after his team failed to score in their fourth round match against Wolverhampton Wanderers and won 4-1 on penalties.
Premier League leaders City have scored 32 goals in nine games so far, the most by any side, but failed to find the net against the Championship side as the score remained 0-0 after 120 minutes of active play.
Goalkeeper Claudio Bravo saved two of Wolves' penalties to help City win and Guardiola blamed the Mitre ball for his side's inability to score.
"It is not acceptable, the ball was unacceptable for a high-level competition," Guardiola said after the match.
"It is too light, there is no weight, nothing. It is not a good ball. It is impossible to score with a ball like that and I can say that because we won.
"I'm not making excuses. All of my players said, 'what is that?' I'm sorry, Carabao Cup, but that is not a serious ball for a serious competition."
Bravo has been heavily criticised for sloppy performances since joining City in 2016 and Brazilian Ederson has been Guardiola's first-choice keeper this season.
"Without Claudio we would not be in the next round," Guardiola added.
"I am so, so happy for him because it has not always been easy. He made a lot of important saves for us."
Striker Sergio Aguero, who captained the side, missed out on the chance to become City's record goalscorer but will have an opportunity again when Guardiola's side travel to West Bromwich Albion in the league on Saturday.