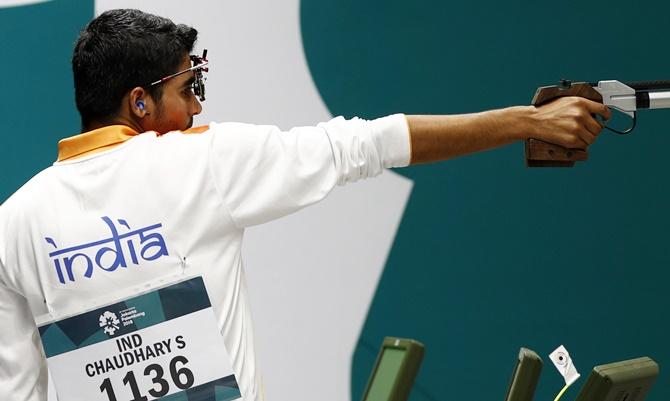 Back-to-back scheduling of Asian Games and World Championships has forced the Indian shooting contingent to be frugal with the use of live ammunition.
A shooter can only carry five kg of ammunition on international flights and they always have to be meticulous while planning for tournaments. The squad knew of the schedule (World Championships begin in Korea on August 31) well in advance but the 5kg rules had led to shooters being more careful than ever.
Barring the 10m events where lead pellets are used, shooters shoot with live ammunition.
"The 5 kg ammunition per person is also inclusive of the packaging, so basically it comes down to 4.5kg. For a rifle/pistol shooter, that quantity equals to 1200 shots, which is four days of training," pistol coach Ronak Pandit, who is with the team, said.
"Here the organisers are co-operating but in World Cup and World Championships, you need about 700 shots for unofficial training, pre event training, elimination, qualification and final. Our planning for events starts well in advance. There is no room for error," he said.
The situation is worse for big bore shooters.
"Since their ammunition is bigger and heavier, the five kg equals to just 200 bullets. Which means they have to be even more careful with how they use them. A lot of times then end up dry firing to save bullets," said Pandit.
Lead pellets are not considered as ammunition on flights and being true team players, 10m shooters used their 5kg quota for their teammates. Even the support staff carries bullets on their name.
Some shooters including mixed rifle team bronze medallists Ravi Kumar and Apurvi Chandela, and silver medallist Deepak Kumar have already reached Korea for the World Championships. Most of the others will be flying into the premier competition after their competition in Indonesia.
Sixteen-year-old Saurabh Chaudhary is one of the few who has flown back to India for a day to quickly celebrate his historic 10m pistol gold medal feat with his parents.
"If we all had gone back to India, we would have got another 5kg of ammunition but that is not the route so we are heading to Korea straight from here. The Chinese would be going back home, so they would have sufficient ammo. These things are always tricky and with back-to-back scheduling it has gotten trickier this time," said Pandit.
Chaudhary, son of a farmer based in a remote village in Meerut district, has managed to find a day with his parents but on his way to Korea, he will be carrying 5kg of ammunition for his teammates.
"That is one good thing about this Indian team. They are always there for each other when it comes to ammunition. They know it (an extra round of training or two) can make a huge difference," added Pandit.
The trap shooters are better off as they are able to source bullets locally in case of a shortage.