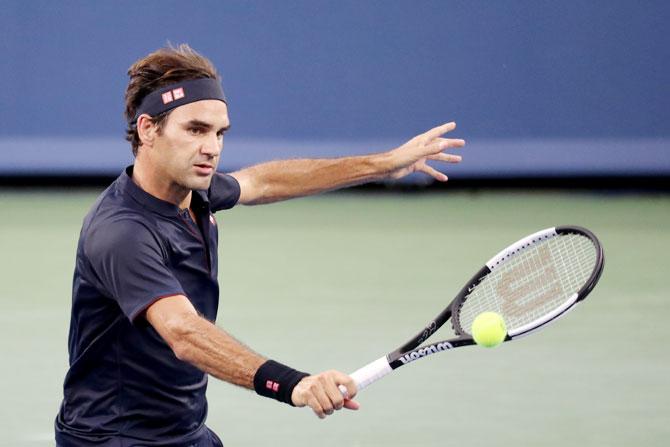 Roger Federer heads to the US Open as third favourite behind longtime rivals Novak Djokovic and Rafael Nadal after a season that has nose-dived since he won the Australian Open at the start of the year.
This time last year, Federer was the pundits' pick to claim a third Grand Slam title of 2017 in New York, after roaring back from a season decimated by injury to win the Australian Open and Wimbledon.
His run at Flushing Meadows was ended by Juan Martin del Potro in the quarter-finals, but Federer appeared to have put that defeat behind him as he claimed his 20th career Grand Slam title in style in Melbourne in January.
By July, however, that early optimism had faded following Federer's defeat by Kevin Anderson in the Wimbledon quarter-finals.
The loss was even more shocking because of the way in which it came about, with the world number two surrendering a two-set lead and at a loss to explain what had gone wrong.
In truth, the first signs that all was not well with the Swiss emerged before Wimbledon started.
Four months earlier, Federer reached the final at Indian Wells where he was beaten by Del Potro, failing to convert a match point before losing in three sets.
The pattern was repeated against Borna Coric in the Halle final, and Federer headed to Wimbledon with those two defeats weighing on his mind before again losing from a winning position at the All England Club.
In Cincinnati last week, Federer floundered badly against Novak Djokovic in the final, making a large number of uncharacteristic errors before succumbing in straight sets.
Djokovic, fresh from his victory at Wimbledon and back to his best after his injury troubles, is the bookmakers' favourite to win the US Open title ahead of defending champion Nadal, while Federer himself is happy to play down his own chances.
"I'm not the favourite, they are -- Rafa and Novak, in my opinion," the 37-year-old said after losing in Cincinnati.
"But I'm happy that my level is there. I just need to figure out my game, get used to different balls."
It has been a decade since Federer won the last of his five titles at Flushing Meadows and former player Chris Evert says he will need to create a miracle to claim the Open-era record by winning his sixth in September.
"As far as Federer is concerned, I think for some reason the US Open hasn't been easy for him," the 18-times grand slam singles champion, who will be part of ESPN's coverage of the US Open in New York, said on a conference call.
"He's created miracles before... he could do it again... (but) it's going to be a gruelling two weeks for him and this is sometimes when age creeps in.
"I just think Djokovic and Nadal would have to be favoured over Federer at this point."