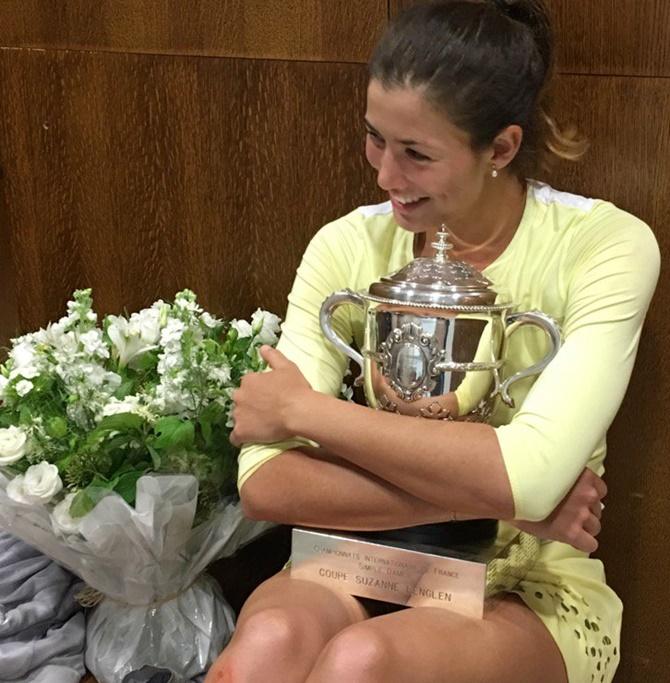 IMAGE: Spain's Garbine Muguruza smiles. Photograph: Twitter.
Spain's Garbine Muguruza won her first Grand Slam title by beating defending champion Serena Williams 7-5, 6-4 at the French Open, denying the American her record-equaling 22nd major trophy on Saturday.
The fourth-seeded Muguruza, a 22-year-old from Spain, used her big groundstrokes to keep No 1 Williams off-balance and overcame signs of nerves in the form of nine double-faults to pull off the surprise.
Take a look at the complete list of French Open women's singles champions:
| Year | Winner | Runner-up | Score |
| --- | --- | --- | --- |
| 2016 | Garbine Muguruza (Spain) | Serena Williams (USA) | 7-5, 6-4 |
| 2015 | Serena Williams (USA) | Lucie Safarova (Czech Republic) | 6-3, 6-7(2-7), 6-2 |
| 2014 | Maria Sharapova (Russia) | Simona Halep (Romania) | 6-4, 6-7(5-7), 6-4 |
| 2013 | Serena Williams (USA) | Maria Sharapova (Russia) | 4-6, 4-6 |
| 2012 | Maria Sharapova (Russia) | Sara Errani (Italy) | 6-3, 6-2 |
| 2011 | Na Li (China) | Francesca Schiavone (Italy) | 6-4, 7-6 |
| 2010 | Francesca Schiavone (Italy) | Samantha Stosur (Australia) | 6-4, 7-6 |
| 2009 | Svetlana Kuznetsova (Russia) | Dinara Safina (Russia) | 6-4, 6-2 |
| 2008 | Ana Ivanovi? (Serbia) | Dinara Safina (Russia) | 6-4, 6-3 |
| 2007 | Justine Henin (Belgium) | Ana Ivanovic (Serbia) | 6-1, 6-2 |
| 2006 | Justine Henin (Belgium) | Svetlana Kuznetsova | 6-4, 6-4 |
| 2005 | Justine Henin (Belgium) | Mary Pierce | 6-1, 6-1 |
| 2004 | Anastasia Myskina | Elena Demetieva | 6-1, 6-2 |
| 2003 | Justine Henin (Belgium) | Kim Clijsters | 6-0, 6-4 |
| 2002 | Serena Williams (USA) | Venus Williams (USA) | 7-5, 6-3 |
| 2001 | Jennifer Capriati | Kim Clijsters | 1-6, 6-4, 12-10 |
| 2000 | Mary Pierce | C.Martinez | 6-2, 7-5 |
| 1999 | Steffi Graf | M. Hingis | 4-6, 7-5, 6-2 |
| 1998 | A. Sanchez Vicario | Monica Seles | 7-6, 0-6, 6-2 |
| 1997 | Iva Majoli | Martina Hingis | 6-4, 6-2 |
| 1996 | Steffi Graf | A. Sanchez Vicario | 6-3, 6-1 |
| 1995 | Steffi Graf | A.S. Vicario | 7-6, 4-6, 6-0 |
| 1994 | A. Sanchez Vicario | M. Pierce | 6-4, 64 |
| 1993 | Steffi Graf | M.J. Fernandez | 4-6, 6-2, 6-4 |
| 1992 | Monica Seles | S. Graf | 6-2, 3-6, 10-8 |
| 1991 | Monica Seles | A.S. Vicario | 6-3, 6-4 |
| 1990 | Monica Seles | S. Graf | 7-6, 6-4 |
| 1989 | A. Sanchez Vicario | S. Graf | 7-6, 3-6, 7-5 |
| 1988 | Steffi Graf | N. Zvereva | 6-0, 6-0 |
| 1987 | Steffi Graf | M. Navratilova | 6-4, 4-6, 8-6 |
| 1986 | Chris Evert Lloyd | M. Navratilova | 2-6, 6-3, 6-3 |
| 1985 | Chris Evert Lloyd | M. Navratilova | 6-3, 6-7, 7-5 |
| 1984 | Martina Navratilova | C. Evert Lloyd | 6-3, 6-1 |
| 1983 | Chris Evert Lloyd | M. Jausovec | 6-1, 6-2 |
| 1982 | Martina Navratilova | A. Jaeger | 7-6, 6-1 |
| 1981 | Hana Mandlikova | S. Hanika | 6-2, 6-4 |
| 1980 | Chris Evert Lloyd | V. Ruzici | 6-0, 6-3 |
| 1979 | Chris Evert Lloyd | W. Turnbull | 6-2, 6-0 |
| 1978 | Virginia Ruzici | M. Jausovec | 6-2, 6-2 |
| 1977 | Mima Jausovec | F. Mihai | 6-2, 6-7, 6-1 |
| 1976 | Sue Barker | R. Tomanova | 6-2, 0-6, 6-2 |
| 1975 | Chris Evert | M. Navratilova | 2-6, 6-2, 6-1 |
| 1974 | Chris Evert | O. Morozova | 6-1, 6-2 |
| 1973 | Margaret Court | C. Evert | 6-7, 7-6, 6-4 |
| 1972 | Billie Jean King | E. Goolagong | 6-3, 6-3 |
| 1971 | Evonne Goolagong | H. Gourlay | 6-3, 7-5 |
| 1970 | Margaret Court | H. Niessen | 6-2, 6-4 |
| 1969 | Margaret Court | A. Jones | 6-1, 4-6, 6-3 |
| 1968 | Nancy Richey | A. Jones | 5-7, 6-4, 6-1 |
| 1967 | Francoise Durr | L. Turner | 4-6, 6-3, 6-4 |
| 1966 | Ann Jones | N. Richey | 6-3, 6-1 |
| 1965 | Lesley Turner | M. Smith | 6-3, 6-4 |
| 1964 | Margaret Smith | M. Bueno | 5-7, 6-1, 6-2 |
| 1963 | Lesley Turner | A. Jones | 2-6, 6-3, 7-5 |
| 1962 | Margaret Smith | L. Turner | 6-3, 3-6, 7-5 |
| 1961 | Ann Haydon | Y. Ramirez | 6-2, 6-1 |
| 1960 | Darlene Hard | Y. Ramirez | 6-3, 6-4 |
| 1959 | Christine Truman | S. Kormoczi | 6-4, 7-5 |
| 1958 | Susi Kormoczi | S. Bloomer | 6-4, 1-6, 6-2 |
| 1957 | Shirley Bloomer | D. Knode | 6-1, 6-3 |
| 1956 | Althea Gibson | A. Mortimer | 6-0, 12-10 |
| 1955 | Angela Mortimer | D. Knode | 2-6, 7-5, 10-8 |
| 1954 | Maureen Connolly | G. Bucaille | 6-4, 6-1 |
| 1953 | Maureen Connolly | D. Hart | 6-2, 6-4 |
| 1952 | Doris Hart | S. Fry | 6-4, 6-4 |
| 1951 | Shirley Fry | D. Hart | 6-3, 3-6, 6-3 |
| 1950 | Doris Hart | P. Todd | 6-4, 4-6, 6-2 |
| 1949 | Margaret duPont | N. Adamson | 7-5, 6-2 |
| 1948 | Nelly Landry | S. Fry | 6-2, 0-6, 6-0 |
| 1947 | Patricia Todd | D. Hart | 6-3, 3-6, 6-4 |
| 1946 | Margaret Osborne | P. Betz | 1-6, 8-6, 7-5 |
| 1940-45 | Not held | due to World War II | |
| 1939 | Simone Mathieu | J. Jedrzejowska | 6-3, 8-6 |
| 1938 | Simone Mathieu | N. Landry | 6-0, 6-3 |
| 1937 | Hilde Sperling | S. Mathieu | 6-2, 6-4 |
| 1936 | Hilde Sperling | S. Mathieu | 6-3, 6-4 |
| 1935 | Hilde Sperling | S. Mathieu | 6-2, 6-1 |
| 1934 | Margaret Scriven | H. Jacobs | 7-5, 4-6, 6-1 |
| 1933 | Margaret Scriven | S. Mathieu | 6-2, 4-6, 6-4 |
| 1932 | Helen Moody | S. Mathieu | 7-5, 6-1 |
| 1931 | Cilly Aussem | B. Nuthall | 8-6, 6-1 |
| 1930 | Helen Moody | H. Jacobs | 6-2, 6-1 |
| 1929 | Helen Wills | S. Mathieu | 6-3, 6-4 |
| 1928 | Helen Wills | E. Bennett | 6-1, 6-2 |
| 1927 | Kea Bouman | I. Peacock | 6-2, 6-4 |
| 1926 | Suzanne Lenglen | M. Browne | 6-1, 6-0 |
| 1925 | Suzanne Lenglen | K. McKane | 6-1, 6-2 |