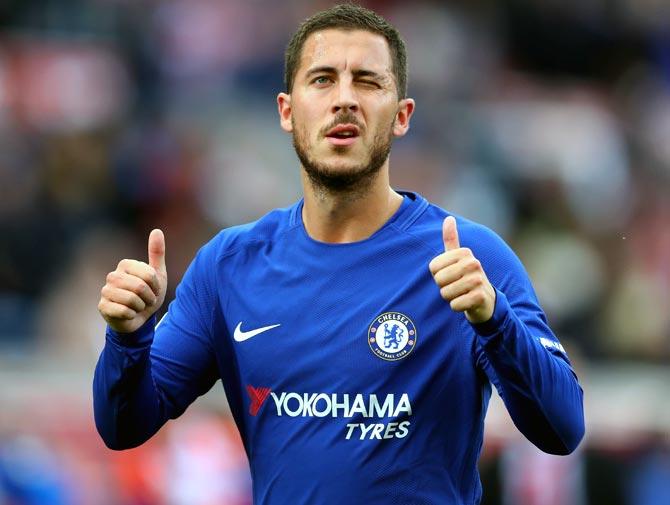 Chelsea's Eden Hazard revealed his appreciation for Manchester United manager Jose Mourinho and said the Portuguese is the one coach he would like to work with again.
The Belgian forward played under Mourinho at Stamford Bridge for more than two years and was an integral part of Chelsea's Premier League title win in 2014-15.
However, the following season was marred by poor performances and reports of friction between certain members of the squad and Mourinho, who left by mutual consent in December, 2015.
Hazard, who will face his former manager when Chelsea host United in the league next Saturday, admitted he made a complacent start to that campaign.
"In 12 years I've only had one bad season, the last six months under Mourinho and it was partly my own fault. After the title, we asked Mourinho for extra holidays. I came back totally out of shape," Hazard told Belgian newspaper HLN.
"Mourinho's image of an extremely defensive coach isn't completely right. He is far from adventurous like (Pep) Guardiola, but the season in which we became champions, we made many goals and played good games... We had a team to get a lot of prizes."
Hazard described the last season under Mourinho as unpleasant.
"We didn't win, we got into a sort of routine -- training, training without having fun, it was better for all parties that the collaboration came to an end," he said.
"If I'm now asked one coach with whom I want to work again, then I say: Mourinho."
Hazard's future at Chelsea has been the subject of speculation and this week he said he may have to move to a Spanish club to get his hands on the Ballon d'Or trophy. The forward has also said it was his dream to play for Real Madrid, another of Mourinho's former teams.
Hazard, however, has ruled out a transfer in the January window. He leads this season's Premier League scoring charts with seven goals as Chelsea sit second behind champions Manchester City, on goal difference, in the standings.