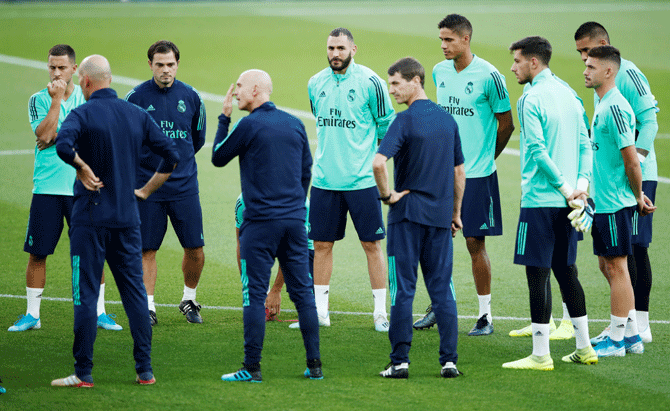 Eden Hazard is ready to make his first start for Real Madrid in their mouthwatering Champions League opener away to Paris St Germain, coach Zinedine Zidane said on Tuesday.
The Belgian forward came off the bench to make his Real debut in Saturday's 3-2 win over Levante, having had his start to life at the club hit by a thigh injury the day before the La Liga season began.
"I think he is ready to play because he has been able to complete more training sessions," the Frenchman told a news conference ahead of Wednesday's Group A game at the Parc des Princes.
"Everyone knows I have always thought highly of Hazard, he is a decisive player who can make the difference and the fact he is at Real Madrid proves that.
"I think he is going to be a very important player for us and he is going to have a formidable future here."
Zidane's side have made an unconvincing start to the campaign, winning two of their four La Liga matches and drawing two, while conceding six goals.
They made a flying start against Levante by marching into a three-goal lead before halftime but conceded twice after the interval and by the end of the game were clinging on for all three points.
"I think we are still finding our feet, we are improving although it's true that against Levante we let our guard drop in the second half," said Real defender Raphael Varane.
"We need to ensure we play well for 90 minutes and I think we're going to get better."
Real's captain Sergio Ramos is suspended for the game, while Ballon d'Or winner Luka Modric and Isco are injured.
Their shortages pale in comparison to PSG's however, with the French side missing suspended Brazil striker Neymar and the injured pair Edinson Cavani and Kylian Mbappe, while new signing Mauro Icardi is a major doubt.
"It is true they have some very important players out but even without them they are still a top team," Zidane said.
"Even though they sometimes don't achieve what they are expected to, they manage to perform well every week."
Spurs' belief over 'profile' key for European success: Lloris
Tottenham Hotspur may not have the "profile" for sustained success in the Champions League like Europe's traditional powerhouse clubs but last season's runnersup make up for it with their belief, goalkeeper Hugo Lloris has said.
Tottenham were beaten 2-0 in last season's final by fellow Premier League side Liverpool and Frenchman Lloris believes the London club can defy the odds to enjoy another deep run in Europe's top-tier club competition.
"With a lot of humility, there are some clubs that have the profile to win Champions League every season -- historically and with the talent they have in the squad," Lloris told reporters ahead of Wednesday's Group B opener against Olympiakos.
"They put a stamp on this competition. That's not the case for Tottenham. But as we saw last year, everything's possible if you have the belief, the talent and the discipline. Why not be back again?
"Obviously, we have a different profile to that type of club -- Juventus, Barcelona, Real Madrid, Bayern Munich. It's not a lack of ambition. When we go on the pitch, it's to win, whoever is the opponent."
Tottenham have won only two trophies -- the domestic League Cup in 1999 and 2008 -- in the last two decades but Lloris said the squad was steadily improving with top-four finishes in the last four Premier League seasons to qualify for Europe.
"It's not a coincidence. We're doing something well, we're building something strong," Lloris added.
"We cannot drop the level. We need to build the consistency to improve, to get even closer to what we are all looking for -- trophies."
Simeone wary of scoring 'animal' Ronaldo
Atletico Madrid coach Diego Simeone has described Juventus forward Cristiano Ronaldo as a goalscoring animal ahead of Wednesday's Champions League Group D game at home to the Italians.
Ronaldo has scored 25 times against Atletico in 33 games and played a huge role in eliminating Simeone's side from last season's competition, scoring a hat-trick in a 3-0 win in the last-16 to overturn a 2-0 deficit from the first leg.
"Cristiano is an animal in front of goal, he can create danger any time he gets near the area," Simeone told a news conference on Tuesday, praising the Portuguese who frequently tormented his side in a nine-year spell with Real Madrid.
Ronaldo has proved particularly deadly against Atletico in the Champions League, helping to beat them in two knockout ties and the 2014 and 2016 finals with Real as well as being responsible for their exit last season, his first with Juve.
"He is so difficult to keep under control because he has everything. He is superb in the air, he is good with both feet, he can get free of his marker easily and he has a deadly shot," the Argentine coach added.
"We've suffered against him in the past and lost against him but we've also won against him."
Atletico defender Jose Gimenez said the key to stopping Ronaldo was to limit what his team mates can do.
"He is a great striker but for the ball to get to him it has to go through other players," he said.
"The fewer touches he gets of the ball, the better, so we'll try and do a good job in the middle of the pitch between the lines of midfield and attack."
Atletico began the La Liga season by storm, winning their opening three games, but they entertain the Italian champions reeling from a 2-0 defeat to Real Sociedad.
Juventus also had a disappointing weekend, dropping points for the first time under new coach Maurizio Sarri with a 0-0 draw at Fiorentina.
"We did not play our best game against Fiorentina but we have already moved on, and tomorrow's game is an important test for us, just like every Champions League game is," said Juve defender Leonardo Bonucci.
"We go into the game with a lot of enthusiasm and energy because playing in the Champions League is what you dream about. Atletico will be up for a battle tomorrow, but so will we."
Atletico's former Juventus forward Alvaro Morata is an injury doubt for the game along with team mate Thomas Partey.
Juve are likely to be without midfielder Miralem Pjanic through injury, while Douglas Costa, Mattia De Sciglio and Giorgio Chiellini are also ruled out.