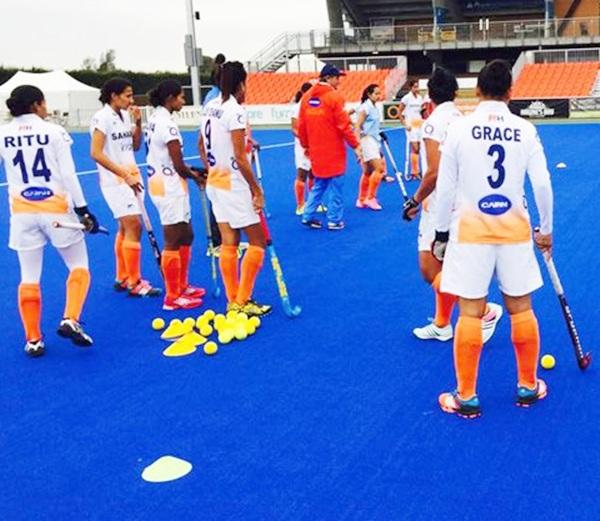 The Indian women's hockey team let slip some early advantage to go down 2-4 against USA in its second match of the Hawke's Bay Cup at the Hastings Sports Park on Sunday.
From the very first minute, both the teams played a calculated game and struggled hard to keep the possession of the ball. Both the teams did not allow each other to take advantage of any scoring prospects.
The first quarter started with intense tussle between the teams and it was India who took the lead and opened their account through Anuradha Thokchom in the sixth minute of the match.
After conceding the goal, the USA managed to keep ball possession on their side. However, the Indian defence stood tall and the score remained 1-0 in favour of India.
As the second half commenced, the USA girls started playing with better strategies. Four minutes into the second quarter, Jill Witmer was quick to retaliate on the goal-line through a field effort in the 19th minute, which resulted in a well-deserved 1-1 equaliser.
Both the teams persistently tried to put pressure on the other and displayed some good stick work but the score card remained unchanged by 1-1 in the second quarter.
In the third quarter, the game entered a hard-fought phase but failed to convert any opportunities in goals.
The dying minutes of the quarter saw some action as USA's Kathleen Sharkey finally broke into the 'D' twice and scored back-to-back goals in the 42nd and 43rd minute for her team, taking the lead to 3-1.
Anuradha scored the second goal for India in the 44th minute through a penalty corner conversion.
In the last quarter of the game, both India and USA were seen attacking the flanks more frequently but it was the latter who got another success in the 47th minute from the stick of Julia Reinprecht.
Indian eves, however, failed to add any more goals to the game and USA won the match 4-2. India will play their next match against Australia on Tuesday.