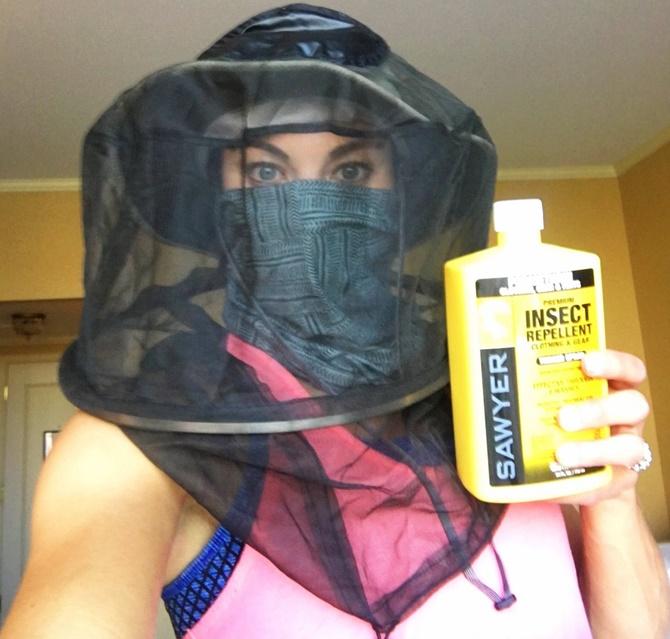 IMAGE: US women's soccer star Hope Solo. Photograph: Twitter.
US women's soccer star Hope Solo has been mocked for voicing public concerns over the Zika virus -- crowds chant "Zika! Zika" when she touches the ball during Rio Olympics.
Solo, who irked Brazilians before coming to the Olympics by tweeting a photo of herself wearing a hat with mosquito netting and sporting a giant bottle of bug repellent, might seem an easy target.
Solo didn't down from her controversial tweet about the Zika virus, but offered an explanation.
"I wish people understood that I did my due diligence before coming to Brazil," she told Sports Illustrated. "It was a decision that I had to make alongside my husband. It's not something I just spoke about without getting educated on, it was something very serious because I do want to start a family."
I did know they were booing, but it doesn't affect me," Solo said.
Lauren Fendrick and Brooke Sweat didn't stir any controversy, or even make any comments about the virus, in the run-up to their match Sunday in women's volleyball. All the same, the two Olympic newcomers got rousing jeers of "Zika" from fans in bright green and yellow Brazilian jerseys every time they served against Poland.
Zika-laced taunts were also directed toward another American, defending Olympic beach volleyball champion Kerri Walsh Jennings.
"Brazilians are very passionate, very vocal, very loud -- very Latin -- and this is reflected sometimes in some sports and some arenas," Mario Andrada, spokesman for the Rio organisers, told reporters when asked about the Brazilian love of booing.
Andrada advised athletes not to take it personally but said he hoped Brazilians would also learn to tone down the jeers.
Anxiety over Zika has run high for months among some athletes preparing for Rio. Golfers Jason Day and American tennis duo Mike and Bob Bryan pulled out of the games, while basketball player Pau Gasol of Spain said he was considering freezing his sperm because of the virus.
Tourists in Rio have been bombarded with free bottles and cans of mosquito repellent.
Brazilians complain their northern neighbours are frequently uninformed and unwilling to recognize Brazil's quick identification of the virus and efforts to eradicate it.