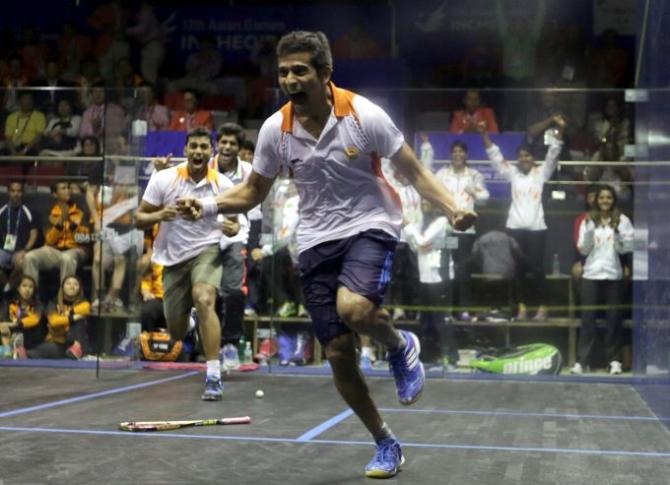 Saurauv Ghosal of India. Photograph: Stanley Chou/Getty Images
The seasoned duo of Saurav Ghosal and Joshana Chinappa expectedly walked away with the individual gold medals in squash even as Haryana's wrestlers demolished their rivals to sign off with a whopping 18 gold on the fourth day of competitions in the 35th National Games here today.
In fact, Haryana overtook two-time defending champions Services Sports Control Board (SSCB) at the top of the medals table riding on the gold rush triggered by their wrestlers, who ended their Games campaign with 18 gold, 2 silver and 2 bronze medals, taking the state's overall count to 33 (21 gold, 8 silver, 4 bronze).
The SSCB, aiming for a hat-trick of overall championship wins, were no pushovers either and have so far accumulated 21 gold, 5 silver and 9 bronze medals to total 35. Maharashtra took the third spot with 11 gold, 18 silver, 15 bronze medals for an overall total of 43.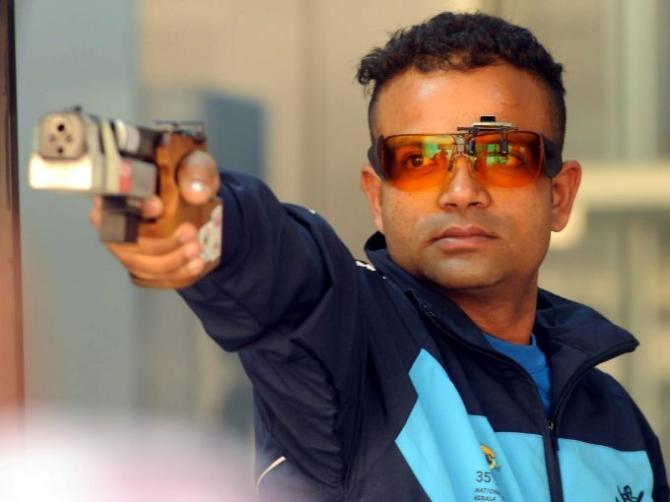 Vijay Kumar. Photograph: PTI
If Haryana dominated wrestling, Services were going strong in shooting with London Olympics silver-medallist Vijay Kumar, after emerging on top in both the team and individual 25m centre fire pistol events, notching up a third gold.
Vijay combined with Gurpreet Singh and Omkar Singh to ensure a numero uno finish for SSCB in the 25m standard pistol men's team competition.
However, the star shooter had to settle for a bronze in the individual event with a score of 565. The individual gold was clinched by his SSCB teammate Gurpreet Singh (572) with Madhya Pradesh's Mahendra Singh (568) fetching the silver.
Services dominated the 10m rifle event as well with Chain Singh Manhas, who won the 50m rifle prone gold on Tuesday, added a second yellow metal to his kitty by finishing on top again today. Manhas scooped the gold by a whisker totaling 205.9 against Uttar Pradesh's Akhil Sheoran, who shot a score of 205.8. Another Uttar Pradesh shooter -- Sathyam Chauhan -- was a distant third after scoring 183.5.
However, Haryana pipped them in the team competition with the trio of Sanjeev Rajput, Prasanth and Deepak Kumar clinching the gold ahead of Manhas, Ravi Kumar and Ashok Chavan. The bronze went to the Uttar Pradesh team of Akhil Sheron, Sathyan Chauhan and Rajendra Rai.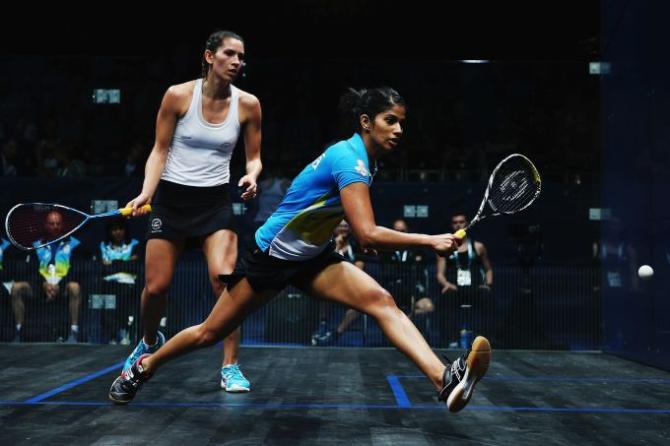 Joshana Chinappa. Photograph: Hannah Peters/Getty Images
On the wrestling mat, Haryana's dominant show continued and the state notched up five gold medals today. Rajendra Kumar claimed the men's 59kg Greco-Roman gold after beating Delhi's Ravinder. The bronze-medallists in this event were Maharashtra's Vikram Krushant and Chhattisgarh's Nitin.
Another gold for Haryana came from Amit Dhankar, who beat SSCB's Arun to emerge champion in the men's 70kg freestyle final. Yogesh (80kg Greco roman), Anita Sheoran (63kg freestyle) and Priyanka (53kg freestyle) added to the tally, helping the side to sign off.
The squash competition here saw complete domination by Tamil Nadu as all the finalists in both the men's and women's competition belonged to the state. First up was women's singles in which the seasoned Joshana Chinappa did not have much trouble in sailing past Lakshya R 11-5, 11-8, 11-4 to grab the gold medal.
The bronze medals went to losing semi-finalists -- Urwashi Joshi of Maharashtra and Uttar Pradesh's Sachika Ingale.
In the men's summit clash, Ghosal rallied to beat Harinder Pal Singh Sandhu after conceding the initial advantage. He won the match 4-11, 11-4, 11-8, 11-6 to expectedly walk away with the top honours, while the bronze-medallists were Delhi's Gaurav Nadrajog and Tamil Nadu's Ravi Dixit.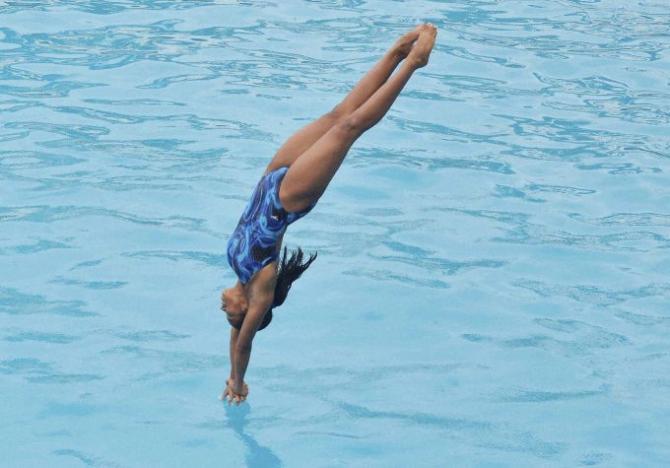 Hrutika Shriram in action. Photograph: PTI
At the aquatics centre, it was another record-shattering day. Home state's swimming sensation Sajan Prakash continued to create a splash by bagging a fourth gold medal in record time.
Prakash, who has already got three gold in the last three days, shattered an 18-year-old meet record to win the gold in the 200m butterfly stroke men's final with a timing of 2:00.69sec. West Bengal's Supriyo Mondal finished a close second by clocking 2:00.80sec, followed by Madhya Pradesh's Aaron D'Souza (2:03.89sec).
In the women's 200m butterfly, Madhya Pradesh's Richa Mishra also broke the previous meet record set by her in 2002 to clinch the gold with a timing of 2:21.66sec ahead of Karnataka's Damini Gowda (2:22.35sec). Tamil Nadu's Sherlyn Devadasan had to be content with a bronze after clocking 2:25.73sec.
Asian Games bronze-medallist Sandeep Sejwal was not to be left behind as he bettered the meet record set by him to win the gold in the 50 breastroke. Sejwal clocked 27.98sec to be a comfortable winner beating Haryana's Puneet Rana (29.23sec) and Punjab's Jashandeep Singh (29.46sec).
Another meet record was improved upon by more than a second when Tamil Nadu's A V Jayaveena clinched the 50m breaststroke gold after clocking 34.43sec, followed by the Maharashtra duo of Monique Gandhi (35.80sec) and Poorva Shetye (35.93sec).
Later, all three medalists in the 4x200m freestyle breached the meet record by a minute. While Maharashtra finished on top by clocking 7:44.24sec, Kerala (7:48.02sec) finished second ahead of Gujarat (7:54.48sec).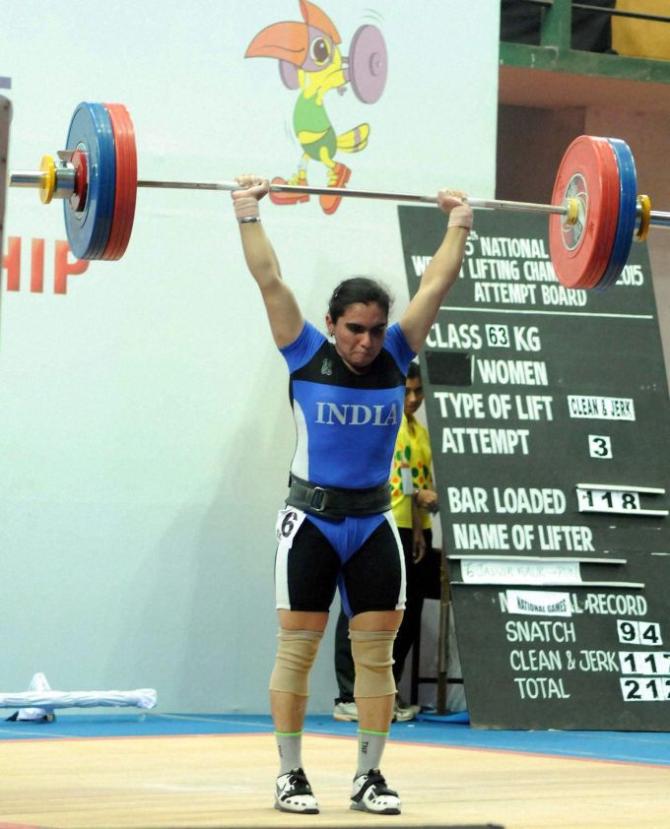 Jasvir Kaur. Photograph: PTI
In the weightlifting arena at Thrissur, Manipur's O Geeta Devi claimed the 69kg category gold medal with a lift of 211kg (93+118). Mizoram's Lalchhanhimi (83+104=191) edged out Andhra Pradesh's G Aruna Rani (85+105=190).
In the men's 94kg category, Assam found its second gold-medallist in the Games when Jameer Hussain pipped SSCB's Veerender Singh. Hussain lifted 326kg (146+180) to emerge champion ahead of Singh, whose total effort was 321kg
(146+175). The bronze medal was clinched by Madhya Pradesh's Noginder Singh (151+168=319).
However, Praful Kumar Dubey ensured that SSCB did manage a gold from weightlifting with an effort of 326kg (146+180). Maharashtra's Christopher Victor grabbed the silver with a lift of 314kg (136+178), finishing ahead of third-placed Rashpal Singh (134+177=311) of Punjab.
In gymnastics, 2010 Commonwealth Games and 2010 Asian Games bronze-medallist Ashish Kumar, who is on road to recovery after being laid low by injuries, picked up a silver medal in the men's individual all-round event. Ashish (77.3500 points) was outshone by SSCB's Rajesh Kumar Batra(78.0500 points), while local favourite Shinoj took the bronze medal with a score of 76.2500.
In the women's all round individual event, Commonwealth
Games gold-medallist Dipa Karmakar gave Tripura its first National Games gymnastics gold by totaling 52.1000.
Elsewhere, a meet record was set in 3m springboard diving by Maharashtra's Rithika P Sreeram, who totalled 214.50, bettering her statemate Hrutika Sharma's mark of 205.35 set in the previous Games in 2011.
At the tennis court, the Gujarat women's team, comprising Ankita Raina, Eetee Asheshkumar, Vaibhavi Trivedi and Niku Amin, won the gold medal by beating Telangana 2-0 in the final, winning both the singles matches. The Telangana team comprised Nidhi, Sowjanya, Iska and Ram. The bronze medals went to losing semi-finalists Tamil Nadu and Maharashtra.
Tamil Nadu won the gold medal in the men's team final, beating Telangana 2-1. The champion team comprised N Sriram Balaji, R Ramanathan, Jeevan Nedunchezhiyan and V Natarajan.