India's Grandmaster Pentala Harikrishna put up a spirited fight against top seeded Dutch Grandmaster Anish Giri but couldn't avert his first defeat in the Shenzhen Longgang Chess Grand Master tournament in Shenzhen, China on Saturday.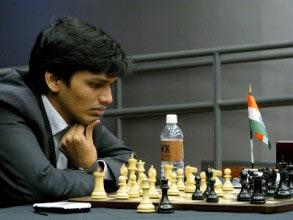 World No. 14 Harikrishna, who started the day atop the leader board, succumbed to the precise play of the World No. 11.
"I made a basic error at the opening, with my na5," conceded Harikrishna after the loss.
"I should have repeated with nf6 and nf5 instead. But Anish played well and deserved the win," he added.
The Indian star has now slipped to the fourth position, with one victory, one defeat and one draw and 1.5 points in his kitty. Anish, on the other hand, has risen to the top place.
Harikrishna will look to bounce back from this setback, when he takes on Yangyi Yu of China on Saturday. Yu also has 1.5 points, having drawn all his games so far.
Image: P Harikrishna
Photograph: PTI Files