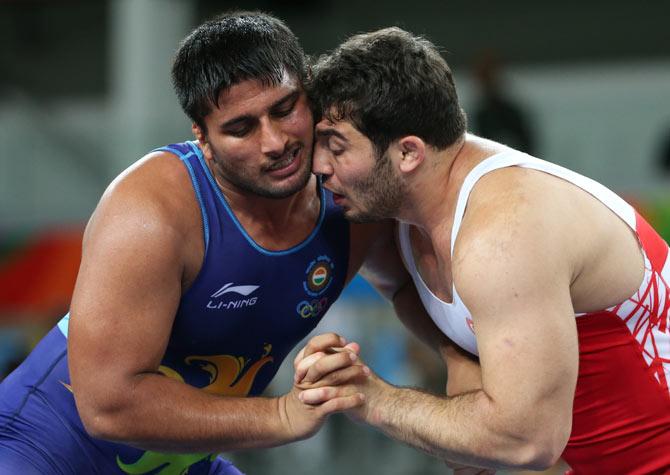 IMAGE: India's Hardeep Singh, left, and Cenk Ildem of Turkey compete during their Greco Roman bout in the 98 kg category. Photograph: Toru Hanai/Reuters.
India's Greco Roman wrestler Hardeep Singh lost his opening round bout in the 98 kg category on technical points to Turkey's Ildem Cenk at the Rio Olympics on Tuesday.
The Turkish wrestler won 2-1 despite stiff resistance from the 25-year-old Indian.
Hardeep's hopes of making it to the repechage round was blown away as Cenk subsequently lost to Artur Aleksanyan of Armenia 0-9 in the semi-finals.
Hardeep fought well in the opening round and was given an advantage by the referee because of passive fighting by the Turk. But while the Indian pinned his opponent to the ground, he failed to do the required flip which would have earned him technical points.
To his horror, in the very next round, it was the Turk's turn to get the advantage and he did the flip effectively to get the required two points.
In the final round, Hardeep did pull a point back but it wasn't enough and the 20-year-old Turk emerged triumphant.