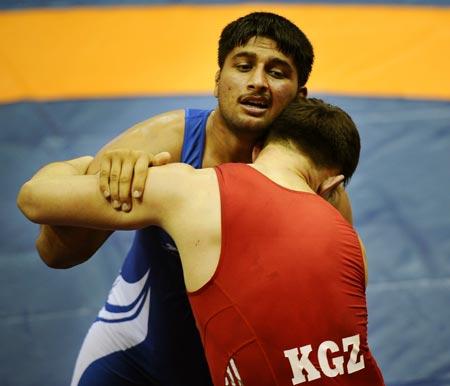 Hardeep sprung a surprise by booking an Olympic quota place for India in Greco-Roman wrestling, which is not the country's forte, after making the 98kg category final on the last day of the Asian Olympic Qualification championship, in Astana, on Sunday.

This is the first time that an Indian Greco-Roman wrestler has secured an Olympic berth after the 2004 Athens Games, when Mausam Khatri had made the cut.

In fact, in a heavyweight category, this is the first time that an Indian Greco-Roman grappler has ensured a place in the Games.

Hardeep qualified for the Rio Games by virtue of reaching the final. The top two finishers in each weight category in Astana are assured of a berth in the Olympics, to be held later this year.

On his way to the final, Hardeep stunned everyone with the ease with which he overcame his rivals.

Hardeep first thrashed Arslan Saparmammedov of Turkmenistan 11-0 during his quarter-final bout before outplaying Margulan Assembekov of Kazakhstan 11-2 in the semis to advance to the gold-medal round.

In Sunday's final, he will take on China's Di Xiao.

Meanwhile, other Indians in the fray on Sunday -- Vinesh Phogat (women's 48kg), Anita (women's 63kg), Somveer (men's 86kg freestyle), Hitender (men's 125kg freestyle) and Ravinder (Greco-Roman 66kg) -- failed to book an Olympic berth.
Image: India's Hardeep (blue) in action against Uzur Dzhuzupbekov of Kyrgyzstan in the men's Greco-Roman Senior 98 kg semi-final match during the 2016 Wrestling Asian Championships on February 17, 2016 in Bangkok.

Photograph: Robertus Pudyanto/Getty Images